Everything You Should Know about Son Heung-Min
Many questions have been raised about South Korean superstar, Son Heung-min who has joined Tottenham club. What's so special about this most expensive Asian in football history?
Profile
Full name: Son Heung-min

Korean name: 손흥민

Birthday: July, 8th, 1992

Birthplace: Chuncheon, Gangwon

Height: 1.83 m (6 ft 0 in)

Net worth: $20 million. With his contract at Tottenham, Son earns £85,000 per week. This would rise to a higher number as he is getting in the prime of his career.
Career
Early Life
He is a professional footballer from South Korea. He plays as a forward or a winger for Tottenham Hotspur aside from captaining the national team of South Korea.
His father, Son Woong-jung once played for the national football B team. He is now retired and becomes Son's manager.
Son joined the academy at FC Seoul. It was the same club that Lee Young-pyo, the former Spurs defender, played for. Still, Heung-min was a ball boy in a home match in 2008.
Club Career
Hamburger SV
He dropped out of FC Seoul U-18 Team in August 2008, and joined the youth academy at Hamburger SV.
One year after, he came back to South Korea. In November 2009, he made a formal involvement in Hamburger SV's youth academy.
Son made his debut in Bundesliga (Germany) in 2010. He showed a great performance in the 2010-2011 pre-season. He led the team with 9 goals. Also, Son signed his first professional deal when he was 18.
He was the youngest Hamburg player (at 18 years) to have scored a goal in Bundesliga, breaking the record that was held by Manfred Kaltz.
Son signed a new contract with Hamburg. He would be kept at the club until 2014, accordingly. It was claimed that Son Heung-min had what it took to become the next Cha Bum-kun. Bum-kun was a fellow South Korean and a legendary Bundesliga forward.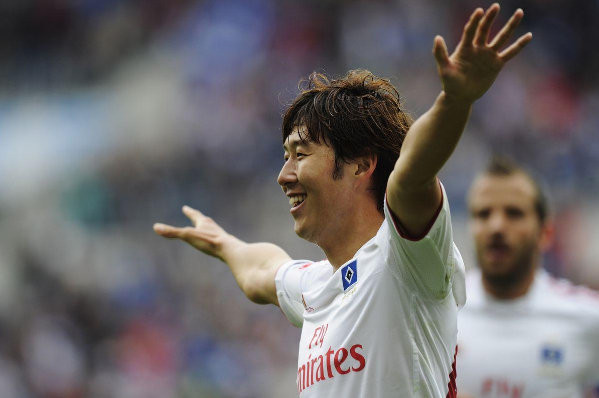 During the 2010-2011 season, in 14 matches in all competitions, Heung-min scored 3 times.
During the 2011-2012 pre-season, he was explosive. Son scored 18 goals in just 9 football matches. After he missed the opening match because of a fever, he scored two times in 3 matches.
Over the course of the 2011-2012 season, Heung-min appeared 30 times for the club and scored 5 goals.
2012-2013 was a breakthrough season for this South Korean. He scored two times against Borussia Dortmund, helping his team to win 4-1. He was chosen as Man of the Match (Mann des Tages) by Kicker.
Son Heung-min finished 34 matches in the 2012-2013 season with 12 goals, becoming the fourth football player from Asia to attain double-digits in goals in the top European football leagues.
Bayer Leverkusen
In 2013, he played for Bayer Leverkusen in the UEFA Champions League and UEFA Europa League. He was reportedly transferred for €10 million. That was the highest fee of transfer in club history at that time.
Heung-min scored 3 goals when he appeared the first, second and third time for the team in exhibition matches.
On November, 9th, 2013, he scored a hat-trick that contributed to the victory against Hamburgers SV, his former club. On December, 7th, he scored an important goal against Borussia Dortmund.
Son finished 43 matches in the 2013-2014 season with 12 goals, and finished 42 matches in the 2014-2015 season with 17 goals.
Tottenham Hotspur
On August, 28th, 2015, he moved to Tottenham for a club record of £22 million (€30 million), becoming the most expensive player from Asia so far. While he was at Tottenham, his popularity grew as the top Asian goal scorer in Premier League history.
In his first match for his new club in the 2015-2016 UEFA Europa League, he scored his first two goals for Tottenham in a 3-1 victory against Qarabağ FK.
On May, 2nd, Son netted the second goal against Chelsea in an important match. It gave Tottenham hope of winning the Premier League.
On October, 14th, 2016, he received the award as the Premier League Player of the Month (for September), thus being the first from South Korea and Asia to be named so.
He won the Player of the Month for September (2016). Image source: Tottenham Hotspur
On May, 12th, 2017, Son Heung-min was named the Premier League Player of the Month (for April). That was his career's second time. Son became the only player in 2016-2017 to receive the award 2 times.
With 21 goals in all competitions (2016-2017), he became the first Spurs player along with Harry Kane and Dele Alli with over 20 goals on the season.
On November, 5th, 2017, he netted the only goal in the 1-0 victory against Crystal Palace. The goal increased his goals in the Premier League to 20. In doing so, Son became the top goal scorer from Asia in Premier League history.
On the 2017-2018 season, Son has become the first from Asia to finish the season as the English Premier League's top 10 goal scorer.
On the 2018-2019 season, Son scored his first league goal, his 50th goal for Tottenham, in a solo effort to win 3-1 over Chelsea. This goal was awarded as the Premier League's Goal of the Month award (for November).
On that season, he helped the club join the competition's semi-finals for the first time since 1962, and the second time ever. Son also became the highest scoring player from Asia in the tournament history with 12 goals.
International career
Representing South Korea, he has joined the 2014 and 2018 FIFA World Cups and is the team's joint highest scorer there alongside Ahn Jung-hwan and Park Ji-sung with three goals.
He has also attended the 2018 Asian Games. The team won gold regarding men's football.
He has represented South Korea in the 2011, 2015, and 019 AFC Asian Cup. The team finished runners-up in 2015.
Skills and Expertises
Son is well known as an all-round attacker. That's because he's able to use both feet equally well, and he's willing to play a number of positions on the attacking half.
His pace is explosive. He also has positional sense. Those are his biggest strengths. Son is also admired for his prowess as a productive goal scorer against Borussia Dortmund. He has scored 9 goals in over 10 matches against the club from Germany in his career.
Dating Rumors
His ex-girlfriends are gorgeous pop singer Bang Min-ah and actress Yoo So-young.
Son Heung-min dated Min-ah when his football career began taking off in Germany. She has been in the pop group Girl's Day from South Korea since 2010. Their relationship was around 2014-2015.
Though Heung-min wanted to keep his private life out of the media, he was again reported to date actress Yoo So-young. He was younger than So-young.