Top Ten Singers of 2018 [2018 Most Popular Artists]
Every now and then we listen to a new song, minutes passes by, and now this is our favorite song. We find it really hard to stop listening to this melodious tone and it won't count as an over-exaggeration if we say we are addicted to this song. Keeping this in mind, we have already listed down the top ten songs of 2018 but today, we thought it would be unjust if we only appreciate the song but not the artist behind it. So, we decided to list down the top ten best and the most popular singers of 2018 (both male and female).
Top Ten Singers of 2018
Here is our list of top ten singers of 2018 on the basis of Google searches, most streamed songs, most watched videos, and other different factors. Read along to find out our pick of the top ten singers of 2018.
Top Ten Male Singers of 2018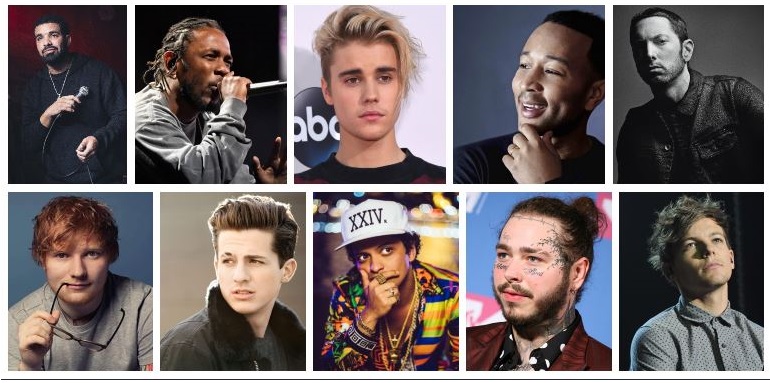 This list is comprised on the basis of all these famous artists' song popularity, fanbase, awards nominations and awards winning. Here are the top ten male singers of 2018 who never failed us and have produced some of the best songs of 2018.
Drake
Bruno Mars
Eminem
John Legend
Justin Bieber
Ed Sheeran
Post Malone
Charlie Puth
Kendrick Lamar
Louis Tomlinson
Top Ten Female Singers of 2018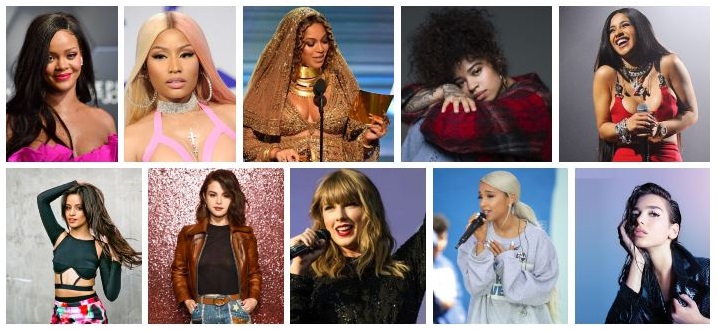 We have listed down all these talented female artists on the basis of their songs popularity, fan following, awards nominations, and awards winning. Here are the top ten female singers of 2018 who we love and admire for their unique talent and composition.
Ariana Grande
Beyoncé
Rihanna
Cardi B
Nicki Minaj
Dua Lipa
Selena Gomez
Camila Cabello
Taylor Swift
Ella Mai
Top Ten Most Popular Singers of 2018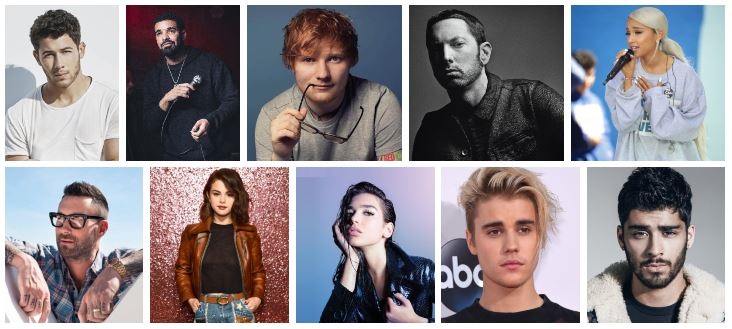 This list of Top ten most popular songs of 2018 is made keeping the popularity of all these singers in mind. They are the most Googled singers of 2018 which means their fans are continuously searching for their songs lyrics, their age, DOB, new releases, photos, and other stuff over the Internet.
Nick Jonas
Drake
Selena Gomez
Eminem
Dua Lipa
Justin Bieber
Ariana Grande
Ed Sheeran
Adam Levine
Zayn Malik
Top Ten Most Streamed (Spotify) Singers of 2018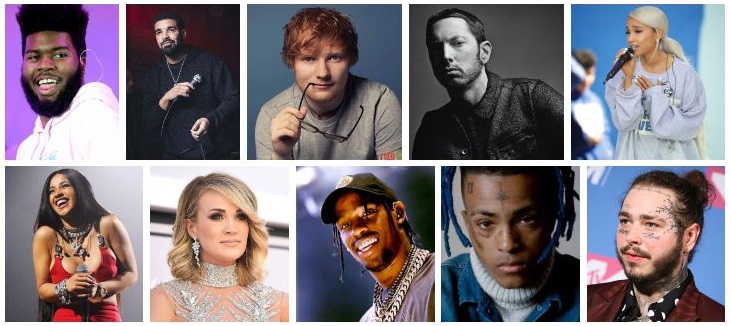 Below is the list of the singers who have the highest Spotify streamed rate among all the other artists in 2018.
Carrie Underwood
Eminem
Drake
Post Malone
Travis Scott
Ariana Grande
Ed Sheeran
Cardi B
Khalid
XXXTentacion
Top Ten Most Watched (YouTube) Singers of 2018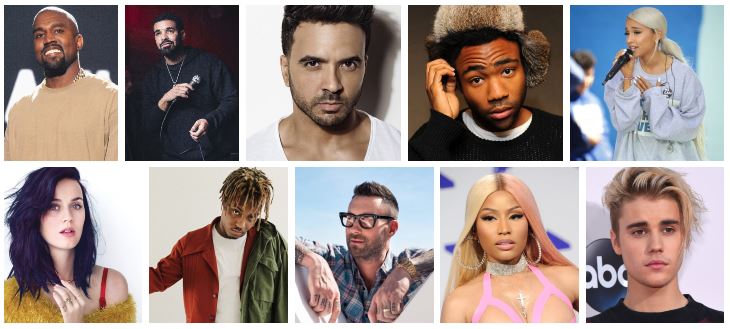 This is the list of the singers whose music videos have been watched the maximum times on the YouTube.
Adam Levine
Kanye West
Ariana Grande
Drake
Nicki Minaj
Childish Gambino
Juice WRLD
Luis Fonsi
Justin Bieber
Katy Perry
Top Ten Singers Bands/Duo of 2018

Finally, the list of the best bands/duo of 2018.
BTS
Imagine Dragons
Maroon 5
5 Seconds of Summer
Dan+Shay
Thrice
GOT7
The Chainsmokers
Old Dominion
Lovelytheband
This is all we've got. Comment down your favorite singer in 2018!!