Liza Koshy And David Dobrik Break Up Announced In A Sad Video
Liza Koshy and David Dobrik break up video is pretty viral now. Almost all of us have watched the video of their breakup and its heartbreaking. Let's get into the details…
Liza Koshy And David Dobrik Break Up
This Monday, the YouTube stars have announced their break up in an emotional video and we are all heartbroken.
The duo released a six minutes long video of constrained silliness and real sadness, the two worked through their separating, which really happened a half a year back however which they didn't impart to the audience up to this point.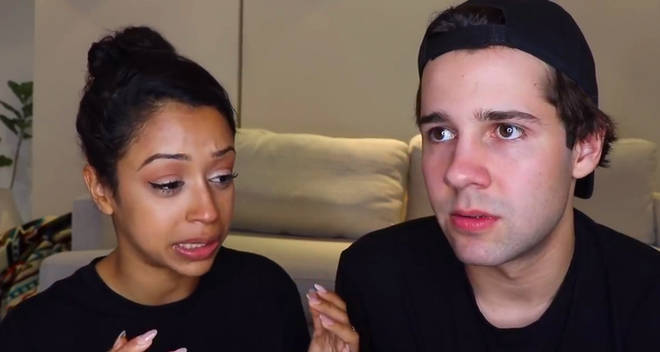 It was Koshy who called the break-up to which Dobrik affirmed and split their ways. Liza said she is experiencing some "rough stuff." At the beginning of the video, we saw Koshy was the tearful one. However, later, Dobrik also got sentimental and had tears in his eyes. He said,
"Liza broke up with me because she felt like we've been distant because we've been so busy. As much as I hate to admit it, I was feeling it on my side too, but I just don't have the balls to pull the trigger on that."
"We felt like we were living separate lives but neither of us was coming to terms with it," said Liza.
"So I decided we should break up. We didn't want to tell anybody because we were just so angry at the fact we distanced in the first place. We did nothing to each other to cause a breakup. We have a lot of growth and development and learning and loving to do."
YouTube videos of the couple; Liza and David, and their interesting experiences and comic drama bits have earned a huge number of views. Their YouTube channels joined have in excess of 20 million supporters. Dobrik told his viewers that they had their breakup six months ago but were not sure when to talk about it in the public until now. He is also unsure how they will work it out in future but for now, it's hard for them to continue together. He said,
"It wasn't healthy for us to continue to be together – for now. You never know what could happen, but just not now."
The reason for their breakup is supposedly the pressure of their YouTube career. But the question that is rising now is whether their breakup will negatively impact on their careers?
According to Tassilo Labuzinski, the founder of branding company Socially Powerful, their breakup will hardly impact their future or career in any way. He said,
"I don't see the break-up being a negative thing for either of them. I think it's oversimplified to say they are the Posh and Becks of the internet and they only come as a package."
And he also hinted to their future of getting back together explaining that if it happens, their fans will know this before anyone and there wouldn't be any problem. He said,
"The couple are free to take it any way they want. They could make another video and say; 'Look, we've actually decided we love each other too much and we want to be together,' and that's going to get more attention. I don't think there's going to be a negative backlash on them in any form."
Well, now we have to see what will happen the next. Being a fan, we can just wish the best for them and their happiness.
If you haven't watched them breaking up yet, here you go!!