How to Plan A Short Trip to Prague, Czech Republic?
Something About Us First
My husband and I shared a mutual desire from the beginning of our relationship: to explore the world together. It's a dream that spoke to us, a light pointing us in the direction of adventure. While accomplishing such a goal isn't always easy, we chose to take those initial, hesitant steps towards exploring this amazing world.
We are originally from the beautiful land of Pakistan who got a chance to move to Germany for our careers. And, as any traveller knows, once in Europe, the entire continent unfolds in front of you, a fascinating mix of cultures and landscapes. So, with our hearts set on realizing our dream, we went on our first journey, one that would take us to the magnificent Czechia to celebrate the begining of 2023, just in time for the grand celebration of New Year's Eve.
A wonderful secret we were carrying with us added an exciting spice to our experience. We were, after all, five months pregnant! So there we were, little fatigued but bubbling with excitement, ready to experience the enchantment of Prague, one of Europe's most magnificent jewels.
Now, A Little About Prague around New Year's
Prague, also known as the "City of a Hundred Spires," is a genuine treasure in the heart of Europe. Its extraordinary beauty, entrenched in centuries of history, transforms this lovely capital into a winter wonderland, especially around New Year's. The city's fairytale-like architecture, such as the Gothic spires of Prague Castle and the famed Charles Bridge, enchants visitors. As the year comes to an end, Prague comes alive with holiday lights, crowded Christmas markets, and the promise of a wonderful New Year's Eve party. It's a period when the past meets the present, and all who choose to embrace the attractions of this timeless city are greeted with a warm and intriguing welcome. I'll include some video snippets from our vacation to show you the beauty of Prague over the Christmas and New Year's holidays.
So without further ado, let's start talking about our trip, how we planned it, and lists the best places in Prague.
This Blog Will Cover
I will cover two things in this blog:
My personal experience
Research from the internet
Let's begin!
4-Day Trip Prague Itinerary
Here's a glimpse of our itinerary, with detailed experiences to follow in our blog. Not a fan of reading, watch my Instagram stories instead: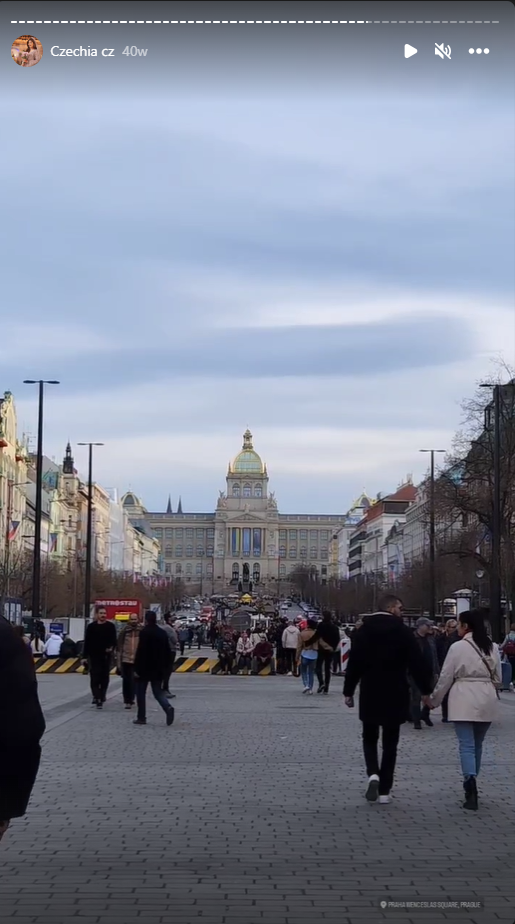 Day 1
We left for Prague early in the morning. It's 6 hours away from Berlin by drive. Enjoying the beautiful surrounding of both Germany and Czech, we arrived at our hotel, Ibis Praha, around noon. We quickly unloaded our belongings, refreshed ourselves, and hurried to the nearest restaurant for lunch. Philly & Co.'s My husband being a fan of cheesesteak couldn't resist it.. With our stomachs full, we continued our city exploration.
We chose to limit our first expedition to the magnificent Wenceslas Square and its intriguing neighbourhood because we came in Prague during the magical month of December, when daylight fades early (around 5 p.m.).
We had no idea Wenceslas Square would be decked up for the holidays, changing into a Christmas market fantasy. We went through a maze of stalls here, beneath the watchful eyes of a massive Christmas tree. Handcrafted treasures, traditional Czech gifts, unique wooden toys, and an abundance of scrumptious holiday delicacies were available at these beautiful kiosks.
When it comes to delicacies, no trip to Prague in December is complete without indulging in trdelnk, a sweet pastry beautifully spun and fried over an open flame. And, of course, mulled wine (svaené vno to keep your spirits warm).
As the sun set, we were enjoying a delectable dinner at Mangal Restaurant, followed by a delicious crescendo of Baklava (their Baklava is certainly something to write home about).
Later, we ascended the Narodini Museum's magnificent staircase to get a bird's-eye view of Wenceslas Square, which was decked out in a dazzling sea of lights and festive Christmas decorations. It was nothing short of miraculous, and it was a moment we treasured.
After that, we retired to our cozy hotel room to reminisce about our excursions, make plans for the next day, and let the enchantment of Prague's December charm lead us into a restful night's sleep.
Day 2
We greeted the morning sun, eager to embrace the city's attractions, ready to enjoy another day of Prague's wonders. The landmark Charles Bridge, leisurely strolls along the Vltava River, discovery of the picturesque Kampa Island, a cultural diversion at the Museum of Modern Art, a moment of meditation at the legendary John Lennon Wall and a visit to the amusing Dancing House were all part of our day's excursion.
One of the many delights of Prague is its walkability, which allowed us to discover hidden gems and lesser-known treasures as we walked its intriguing alleyways. Despite the fact that it was December 30th, the sun shone brightly, increasing the beauty of Prague tenfold.
We made delightful pit stops along the route, enjoying breakfast at Costa Coffee, cocktails at Cafe 22, trdelnk and coffee for a sweet treat, and a supper at Sangham restaurant. Each culnary experience was a treat, and what made it even better was how reasonably priced everything was. Prague truly caters to both the explorer's spirit and the foodie's appetite.
Our day of sightseeing in Prague was full with unexpected treats. Along the way, we discovered delightful Christmas markets, marvelled at the imposing Prague Rathaus, and marvelled at the majesty of Prague Castle. While we were unable to visit the castle's inside due to time constraints, its outside magnificence left a lasting impression.
We returned to the hotel as the sun set below the horizon, throwing a pleasant glow on the city. Dinner was great pizza, and we retired for the night, excited for another day of exploration.
The highlight of the day was probably our time on Charles Bridge and along the Vltava River, where the sun cast a golden glow on everything. We weren't the only ones who enjoyed the sun's warmth; tourists and locals alike danced and celebrated the day's beauty. Prague had truly laid its enchantment on us once again.
Day 3
Our day was spent touring Prague's lovely Old Town, which deserves its own focus. As the day progressed, it became evident that even a whole day wouldn't be enough to do this historical treasure justice.
Our Old Town tour took us into the picturesque Old Town Square neighbourhood, where we marvelled at the Astronomical Clock, found peace in the grace of the Church of Our Lady, and revelled in the magic of the famed Christmas market. Madame Tussauds and the magnificent St. Nicholas Church also invited us to discover their treasures, while Hradany kept its secrets to itself.
The Christmas market enchanted visitors, the Church of Our Lady created an indelible impact, and the bird's-eye view of Old Town from Terasa U Prince was nothing short of stunning. Despite the fact that I couldn't climb the many floors of St. Nicholas Church, my spouse went inside and returned with a heart full of awe.
While visiting Prague's lovely Old Town, we discovered Candy Miners, a delightful hidden gem. This is a must-visit for anyone with a sweet craving, and the atmosphere is nothing short of beautiful. The experience is bizarre, and the candy they provide is just enticing. I heartily recommend stopping by; it's a must-see for everyone who enjoys all things sweet and wonderful.
Our day began with a delicious breakfast at Marthy's, followed by a cocktail at Terasa U Prince, the obligatory coffee and cake at Costa Coffee, and a quick lunch at McDonald's.
We hurried back to our hotel before heading to Wenceslas Square for the great New Year's Eve festivities. Simply said, it was a night for the books. Dancing, midnight kisses, sky-painting pyrotechnics, a beautiful Christmas market, an electrifying countdown to the new year, and a jubilant crowd—Prague had planned a really spectacular celebration.
We reluctantly bid the day farewell, grabbing pizza as all the restaurants were packed, bringing an end to our fantastic day.
Day 4
We decided to take it easy today because many places were closed. Our unhurried excursion took us to the Strahov Monastery & Library and the Narodini Museum, where the day unfolded at a leisurely pace.
We started the day with breakfast at the hotel, which was a lovely surprise that made us wish we could have it every morning. Our first trip was the Strahov Library and Monastery, which was a fascinating excursion that left us speechless. The flavours of Sangam's biryani enticed us back for lunch since we couldn't get enough of it.
We went to the Narodini Museum with full stomachs, and what a treasure trove it turned out to be. As we dived into its offers, four hours flew by in the blink of an eye. The rooftop view provided a stunning view of the city, while the music museum, evolutionary marvels, historical moments, bright artworks, light show, and enigmatic blue chamber all added layers to our experience.
Despite the slower pace, the day was loaded with sights and discoveries that left us with a great respect for Prague's cultural diversity.
As evening approached, we returned to our hotel, packed our bags, indulged in one last session of coffee, and embarked on our journey back to Berlin, bidding a fond farewell to the enchanting city of Prague.
Best Places to Visit in Prague – Per The Internet + Our Views
Now, since you all know about our itinerary. Here is a list of some of the best places in Prague based on our liking and Internet's reviews.
Prague is a perfect blend of history, architectural splendor, and a thriving cultural scene. From the iconic Prague Castle and the historic Charles Bridge to the lively Old Town Square and the awe-inspiring Astronomical Clock, the city's rich heritage is on full display. Don't miss the serenity of Petřín Hill, the timeless charm of Vyšehrad, and the vibrant Lennon Wall. For those seeking cultural immersion, the Prague National Theatre offers world-class performances. If you're a nature enthusiast, the Prague Zoo provides a delightful escape. And of course, no visit is complete without savoring a Czech beer in one of the city's picturesque beer gardens.
Since we were pregnant and only planned a 4-day, 3-night trip to Prague, we weren't able to explore all of these places. I will talk about the places we visit in detail in a separate section: Our Itinerary. But first, let's take a look at the 30 best tourist spots in Prague.
Prague Castle, or "Pražský hrad" in Czech, is a magnificent and historic complex that sits majestically atop a hill overlooking the city of Prague. It holds the distinction of being one of the largest castle complexes in the world and serves as a symbol of Czech history and culture.
The castle's history dates back to the 9th century when it was founded by Prince Borivoj of the Premyslid dynasty. Over the centuries, it has evolved and expanded, resulting in a stunning blend of architectural styles, including Romanesque, Gothic, Baroque, and Renaissance. Its iconic red-tiled roofs, grand courtyards, and imposing spires create a captivating silhouette against the Prague skyline.
One of the standout features within Prague Castle is St. Vitus Cathedral (Katedrála svatého Víta), a masterpiece of Gothic architecture. Its towering spires and intricate stained glass windows make it a must-visit attraction within the complex. Visitors can also explore the Old Royal Palace, where Bohemian kings once resided, and the Golden Lane, a charming alley of colorful houses that once housed castle servants.
Prague Castle isn't just a historical site; it's also the official residence of the President of the Czech Republic. This living castle adds a unique layer of contemporary significance to its rich history.
The castle complex offers breathtaking panoramic views of the city and the Vltava River below. Whether you're admiring its exterior beauty or exploring its interior treasures, Prague Castle is an essential stop for anyone visiting the Czech capital, offering a captivating journey through centuries of history and architectural excellence.
Hradčany, often referred to as the Prague Castle District, is a historic neighborhood in Prague that surrounds the grand Prague Castle complex. This charming district is not only a picturesque and culturally rich area but also a place deeply intertwined with the history of the Czech capital.
The centerpiece of Hradčany is undoubtedly Prague Castle, one of the largest castle complexes in the world. The castle, originally built in the 9th century, has been the seat of Czech kings, emperors, and presidents for centuries. Its architectural ensemble features a stunning mix of styles, including Gothic, Renaissance, and Baroque, and includes the iconic St. Vitus Cathedral.
The district's winding cobblestone streets are lined with elegant Baroque palaces, quaint shops, and artisanal boutiques. Hradčany's picturesque squares, such as Hradčanské náměstí and Malostranské náměstí, offer visitors a taste of old-world charm.
Hradčany is also home to many diplomatic residences and embassies, adding to its international character. The Loreto Sanctuary, a Baroque pilgrimage site, and the Strahov Monastery with its stunning library are additional cultural treasures within the district.
The neighborhood's elevated location provides breathtaking panoramic views of the city, making it a popular spot for both locals and tourists. Hradčany, with its timeless beauty and rich history, offers a tranquil escape from the bustle of the city and a chance to step back in time to explore Prague's regal and artistic heritage.
Charles Bridge, known as "Karlův most" in Czech, is an iconic and historically significant landmark that spans the Vltava River in the heart of Prague, Czech Republic. This magnificent stone bridge, with its Baroque statues, arches, and timeless charm, is one of the most visited and celebrated attractions in the city.
Construction of Charles Bridge began in 1357 under the reign of King Charles IV, and it was completed at the beginning of the 15th century. The bridge is a testament to medieval engineering and architectural prowess, adorned with 30 statues of saints and important figures, which were added in the 17th century.
Walking along Charles Bridge is a journey through time. The bridge's cobblestone path is lined with street performers, local artists, and vendors, creating a lively and festive atmosphere. From sunrise to sunset, the bridge offers breathtaking views of Prague Castle, the Vltava River, and the city's picturesque skyline.
One of the most famous statues on Charles Bridge is that of St. John of Nepomuk. According to legend, touching the plaque beneath the statue will bring good luck and ensure your return to Prague. This belief has made it a popular ritual among tourists.
Charles Bridge is not only a tourist hotspot but also a symbol of Prague's rich history and cultural heritage. It has withstood the test of time, surviving floods and wars, and continues to be a beloved symbol of the city. A visit to Prague is incomplete without strolling across this historic bridge, taking in the views, and experiencing the palpable sense of history that permeates its very stones.
Wenceslas Square, or "Václavské náměstí" in Czech, is a vibrant and historically significant square located in the heart of Prague. This bustling thoroughfare, often referred to simply as "Wenceslas Square," has played a central role in the city's history, serving as a venue for important events, celebrations, and protests.
The square is named after Saint Wenceslas, the patron saint of Bohemia, and is dominated by a statue of the saint mounted on a horse. This equestrian statue of St. Wenceslas, designed by Josef Václav Myslbek, is not only an iconic symbol of the square but also a symbol of Czech national identity.
Wenceslas Square is lined with architectural gems, historic buildings, shops, restaurants, and cafes. It has witnessed key moments in Czech history, including the Prague Spring in 1968 and the Velvet Revolution in 1989 when it became a focal point for pro-democracy demonstrations.
Throughout the year, the square hosts various events, concerts, and cultural festivals, adding to its lively atmosphere. It's also home to the National Museum, a neoclassical gem that houses a vast collection of historical artifacts and artworks.
Wenceslas Square is not just a historical and cultural hub but also a shopping and entertainment destination. Visitors can explore local and international boutiques, dine in charming restaurants, and experience the vibrant nightlife of Prague.
Whether you visit during the day to admire its architectural beauty or in the evening to enjoy the bustling nightlife, Wenceslas Square is a must-visit destination that captures the spirit and history of Prague. It's a place where the past and present merge, offering a dynamic and memorable experience for all who stroll along its storied streets.
Prague's Old Town Square, or "Staroměstské náměstí" in Czech, is a captivating and historically significant square at the heart of the city. This central square is a bustling hub of activity and a showcase of Prague's rich history and architectural heritage.
The square's history dates back to the 12th century when it served as the city's main marketplace. Today, it stands as a mesmerizing blend of architectural styles, including Gothic, Baroque, and Romanesque, with colorful facades and intricate details adorning the surrounding buildings.
The Astronomical Clock, a masterpiece of medieval engineering and artistry, is a prominent feature of the square. Every hour, crowds gather to witness the clock's animated performance, a spectacle that has been captivating audiences for centuries.
The Church of Our Lady before Týn, with its twin spires, dominates one side of the square. This Gothic masterpiece is a striking example of Prague's architectural heritage and an important religious site.
Old Town Square is also home to a variety of restaurants, cafes, and shops, making it a vibrant and lively destination for both locals and tourists. The square comes alive with outdoor markets, cultural events, and concerts throughout the year.
One of the most enchanting times to visit Old Town Square is during the Christmas season when it transforms into a magical winter wonderland, complete with a large Christmas tree and a festive market.
Visiting Old Town Square is like stepping back in time while also experiencing the pulse of modern Prague. Its architectural beauty, historical significance, and lively atmosphere make it a must-visit destination for anyone exploring the Czech capital.
The John Lennon Wall, located in the charming neighborhood of Malá Strana in Prague, is a vivid and ever-evolving symbol of peace, love, and artistic expression. This iconic wall has a fascinating history that intertwines with the global cultural and political movements of the 20th century.
The wall originally stood as an ordinary one, but in the 1980s, it began to transform into a canvas of hope and freedom. Inspired by John Lennon's messages of peace and love, as well as his tragic death in 1980, young artists and activists started painting colorful murals and graffiti on the wall. These artworks often carry messages of peace, freedom, and unity.
Despite repeated efforts by the authorities to whitewash the wall, it continued to be a canvas for free expression. The John Lennon Wall became a symbol of resistance during the communist era in Czechoslovakia, and it remains a symbol of artistic and political freedom today.
Visitors to the wall can witness a vibrant tapestry of colors and messages that change over time. It's a place where people from around the world come to leave their mark, whether through artwork or written messages of hope.
The John Lennon Wall is not just a piece of art but also a living testament to the power of free expression and the enduring legacy of John Lennon's ideals. It's a place where visitors can reflect on the importance of peace, love, and the universal language of art in our world.
Kampa Island, nestled in the heart of Prague along the Vltava River, is a picturesque oasis of tranquility and natural beauty. Often referred to as "the Venice of Prague" due to its canals and charming waterways, Kampa Island offers a serene escape from the bustling city streets.
This idyllic island is connected to the Lesser Town (Malá Strana) by the iconic Charles Bridge, making it easily accessible to visitors. Kampa's cobblestone pathways, shaded by centuries-old trees, invite leisurely strolls, and its quaint architecture adds to the overall charm.
One of Kampa Island's highlights is the historic Kampa Park, a green expanse where locals and tourists alike gather to relax and enjoy picnics with a backdrop of the Vltava River and Prague Castle. The John Lennon Wall, adorned with messages of peace and love, is also a notable attraction on the island.
Art enthusiasts will appreciate the Museum Kampa, which houses a remarkable collection of contemporary Central European art. The museum's exhibitions often feature works by renowned Czech artists, providing insight into the region's artistic heritage.
Kampa Island's tranquil ambiance extends to its waterside cafes and restaurants, offering an ideal setting for a leisurely meal or a cup of coffee while gazing at the river's flow.
Whether you explore its charming streets, appreciate its art, or simply enjoy a peaceful moment by the water, Kampa Island stands as a serene and culturally rich corner of Prague that provides respite and inspiration to all who visit.
The Strahov Monastery and Library, located atop the Petřín Hill in Prague, is a treasure trove of history, culture, and knowledge. This magnificent complex, founded in the 12th century, has endured centuries of transformation and stands as a testament to the enduring spirit of learning and spirituality.
The Strahov Library is one of the oldest monastic libraries in the world, home to an extraordinary collection of books, manuscripts, and maps. It's renowned for its Baroque Theological Hall and Philosophical Hall, both adorned with exquisite frescoes, stucco decoration, and wooden shelving that houses rare volumes.
The library's collection includes works dating back to the Middle Ages, including illuminated manuscripts and incunabula. Among its prized possessions are the Strahov Evangeliary, a stunning example of medieval book art, and a globe from the 17th century, which offers a fascinating glimpse into the understanding of geography at the time.
Adjacent to the library is the Strahov Monastery, an elegant architectural ensemble featuring the stunning Basilica of the Assumption of Our Lady. The monastery's tranquil courtyard and peaceful gardens offer a serene escape from the bustling city below.
Visitors to the Strahov Monastery and Library can explore its rich history, marvel at its artistic treasures, and appreciate the enduring legacy of knowledge and culture that it represents. It's a place where the past comes to life through its illuminated manuscripts and where the spirit of discovery and enlightenment is palpable in every corner.
The Black Light Theatre in Prague is a unique and enchanting theatrical experience that combines elements of mime, dance, puppetry, and optical illusions to create a mesmerizing visual spectacle. This genre of theater, known for its use of ultraviolet light and fluorescent colors, creates a dreamlike world where the boundaries between reality and fantasy blur.
The term "black light" refers to the use of ultraviolet light, which makes certain colors and objects glow brilliantly while rendering others invisible. Performers dressed in black blend seamlessly into the dark background, allowing the colorful props and costumes to seemingly float and dance on their own.
The Black Light Theatre performances are a feast for the senses, with dazzling visual effects that create an otherworldly atmosphere. Objects appear to levitate, characters seem to materialize out of thin air, and scenes transition seamlessly through a combination of light manipulation and choreography.
These performances often tell stories that range from fairy tales to abstract narratives, all brought to life through the magic of black light. The absence of spoken words adds to the universal appeal of these shows, making them accessible to audiences of all languages.
Prague has a rich tradition of Black Light Theatre, and several theaters in the city offer performances throughout the year. Attending a Black Light Theatre show is a captivating and unforgettable experience that allows you to step into a world of imagination and wonder, where the ordinary becomes extraordinary, and reality blends with fantasy.
The Clementinum and the National Library in Prague stand as a testament to the city's rich cultural and intellectual heritage. This architectural gem, located in the heart of Prague's Old Town, is a historic complex that has played a pivotal role in the preservation of knowledge and the promotion of learning for centuries.
The Clementinum complex consists of a series of stunning Baroque buildings, including the famous Astronomical Tower with its breathtaking views of the city. Originally founded as a Jesuit college in the 16th century, it later became a center of scholarship and scientific research.
One of the highlights of the Clementinum is the National Library of the Czech Republic, which houses an extensive collection of books, manuscripts, maps, and rare documents. The library's holdings include the famous Codex Gigas, one of the largest medieval manuscripts in the world, and the Vyšehrad Codex, a significant historical document.
Visitors to the Clementinum can explore its exquisite Baroque library halls, adorned with ornate frescoes, gilded decorations, and intricate wooden shelving. The historic beauty of these halls creates a unique and awe-inspiring backdrop for the priceless literary treasures they contain.
The Clementinum and the National Library are not only repositories of knowledge but also living cultural institutions. They host exhibitions, lectures, and cultural events that continue to promote the intellectual and artistic heritage of Prague and the Czech Republic.
A visit to the Clementinum and the National Library offers a glimpse into the past while celebrating the enduring importance of learning and culture. It's a place where history, art, and knowledge converge, creating an enriching experience for all who explore its hallowed halls.
The Narodni Museum, officially known as the National Museum, is a cultural treasure trove located in the heart of Prague. This majestic institution is not only one of the most significant museums in the Czech Republic but also a symbol of the nation's commitment to preserving its history and heritage.
Founded in 1818, the National Museum has a rich and extensive collection that spans various disciplines, including natural history, anthropology, archaeology, art, and history. Its diverse exhibitions offer a comprehensive overview of the Czech Republic's past, culture, and scientific achievements.
The museum's monumental building, a neo-Renaissance masterpiece, stands proudly at the top of Wenceslas Square. Its grand architectural design, adorned with sculptures and intricate detailing, is a testament to the importance of knowledge and culture in the Czech national identity.
Among the museum's highlights are its paleontological and geological exhibitions, featuring a remarkable collection of fossils and minerals. The museum also houses a significant collection of historical artifacts, including medieval weaponry, decorative arts, and numismatic treasures.
One of the most captivating features of the National Museum is its rooftop, which offers panoramic views of Prague. It's an ideal vantage point to appreciate the city's stunning architecture and layout.
The Narodni Museum is more than just a repository of artifacts; it's a place where the past comes to life, where scientific discoveries are celebrated, and where the nation's cultural heritage is honored. A visit to this institution is a journey through time and knowledge, providing a deeper understanding of the Czech Republic's rich and complex history.
St. Vitus Cathedral, nestled within the grand Prague Castle complex, is a masterpiece of Gothic architecture and one of the most iconic landmarks in Prague. This stunning cathedral serves as the spiritual and cultural heart of the Czech Republic, as well as the final resting place of many Bohemian kings and queens.
Construction of St. Vitus Cathedral began in the 14th century and spanned several centuries, resulting in a magnificent fusion of architectural styles, including Gothic, Renaissance, and Baroque elements. The cathedral's awe-inspiring facade, adorned with intricate stone carvings and sculptures, stands as a testament to the skill and artistry of its builders.
Inside, visitors are greeted by a breathtaking interior that features towering vaulted ceilings, stained glass windows, and a plethora of chapels, each with its unique artistic and historical significance. The most famous of these is the Chapel of St. Wenceslas, where the Bohemian crown jewels are kept under heavy guard.
One of the highlights of a visit to St. Vitus Cathedral is ascending the south tower for panoramic views of Prague. The climb, while challenging, rewards visitors with spectacular vistas of the city and the Prague Castle complex.
St. Vitus Cathedral is not only a place of worship but also a cultural treasure trove. Its historical and artistic significance is reflected in its numerous chapels, tombs, and art installations. The cathedral continues to host important national events, including royal coronations and state funerals.
A visit to St. Vitus Cathedral is an opportunity to immerse oneself in the rich history, architecture, and spirituality of Prague. It's a place where the past and present intersect, leaving visitors in awe of its grandeur and historical significance.
The Municipal House, or "Obecní dům" in Czech, is a magnificent Art Nouveau masterpiece located in the heart of Prague. This architectural gem is not only a stunning work of art but also a cultural and historical landmark that has played a significant role in the city's cultural life.
Built at the beginning of the 20th century, the Municipal House is a testament to the Art Nouveau movement, characterized by its intricate decorative motifs, curvilinear designs, and an emphasis on craftsmanship. The exterior of the building features ornate sculptures, intricate ironwork, and a stunning mosaic by the renowned Czech artist Alfons Mucha.
The interior of the Municipal House is equally impressive. The Smetana Hall, the largest and most famous concert hall within the building, is a grand space adorned with frescoes, crystal chandeliers, and decorative detailing. It serves as a venue for classical music concerts, including performances by the Czech National Symphony Orchestra.
The Municipal House is not just a beautiful architectural creation; it's also a cultural hub. It houses the Smetana Hall, the Grégr Hall, a French restaurant called "La Rotonde," and the American Bar, which has preserved its original 1912 decor.
Visitors to the Municipal House can explore its exquisite interiors, attend classical music concerts, and appreciate the Art Nouveau beauty that surrounds them. It's a place where art, music, and history converge, offering a captivating experience for those who appreciate the elegance and craftsmanship of a bygone era.
Vyšehrad, perched atop a hill overlooking the Vltava River in Prague, is a historic fortress and park that holds a special place in the city's cultural and mythical heritage. This elevated vantage point offers not only commanding views of Prague but also a deep connection to the city's history and folklore.
The origins of Vyšehrad date back to the 10th century, making it one of the oldest settlements in Prague. Legend has it that it was the original seat of Czech royalty, and it's often associated with the mythical foundation of Prague by Princess Libuše.
The Vyšehrad complex is a blend of historical and architectural elements, featuring the stunning Church of St. Peter and St. Paul, which showcases Neo-Gothic design and striking twin spires that dominate the skyline. The cemetery surrounding the church is the final resting place of numerous notable Czech figures, including composers, artists, and writers.
The fortress grounds also encompass the Rotunda of St. Martin, a Romanesque gem that dates back to the 11th century. It's one of the oldest preserved buildings in Prague and offers a glimpse into the city's early medieval history.
The Vyšehrad Park, with its peaceful gardens and scenic pathways, invites visitors to explore its serene surroundings. The Vyšehrad Cemetery, a final resting place for many prominent Czechs, is a contemplative and historically rich space.
Vyšehrad is not only a place of historical significance but also a cultural and artistic hub. The summer months see open-air concerts and cultural events taking place in its gardens, making it a vibrant destination for both locals and tourists.
A visit to Vyšehrad is an opportunity to delve into Prague's past, enjoy breathtaking views of the city, and immerse oneself in the myths and legends that have shaped the Czech capital's identity.
Josefov, the historic Jewish Quarter of Prague, is a place steeped in centuries of history, culture, and tradition. This compact neighborhood is not only a testament to the enduring Jewish heritage but also a window into the complex history of Prague and its Jewish community.
Josefov is home to some of Prague's most significant Jewish landmarks, including the hauntingly beautiful Old Jewish Cemetery, where thousands of gravestones are densely packed, bearing witness to generations of Jewish life in the city. The cemetery's age and preservation efforts make it a poignant testament to Jewish history.
The Spanish Synagogue, another jewel in the quarter, boasts a stunning Moorish Revival architectural style and houses an exhibition on Jewish history. Nearby, the Pinkas Synagogue memorializes Holocaust victims with the names of over 77,000 Czech and Moravian Jews inscribed on its walls.
Josefov also features the historic Jewish Town Hall and the Klausen Synagogue, which hosts exhibitions on Jewish customs and rituals.
Wandering through the cobblestone streets of Josefov, you'll encounter a blend of architectural styles, from Gothic and Renaissance to Baroque and Art Nouveau. The neighborhood is also home to Jewish restaurants, kosher bakeries, and shops, offering a taste of Jewish culture and cuisine.
While exploring Josefov, one can't help but feel the weight of history and the resilience of the Jewish community. It's a place where stories of survival, perseverance, and cultural richness are etched into the very stones of the streets, creating a profound and moving experience for visitors.
The Petřín Lookout Tower, often referred to as Prague's "Little Eiffel Tower," is a captivating architectural landmark that graces the summit of Petřín Hill. Rising above the city, this tower offers not only breathtaking panoramic views of Prague but also a picturesque journey through history, nature, and leisure.
Built in 1891 for the Jubilee Exhibition, the Petřín Lookout Tower stands at 63.5 meters (208 feet) tall and boasts a striking iron structure reminiscent of the Eiffel Tower in Paris. The tower's design is a testament to the architectural and engineering prowess of its time.
Visitors can ascend the tower via a winding staircase comprising 299 steps, or opt for the elevator ride to the top. Once at the observation deck, which stands at 51 meters (167 feet) above the ground, you'll be treated to an awe-inspiring 360-degree view of Prague's historic cityscape. On a clear day, you can see as far as the Krkonoše Mountains.
The Petřín Lookout Tower isn't just a vantage point; it's also surrounded by beautiful gardens and parks, making it a serene escape from the bustling city below. The neighboring Petřín Hill offers hiking trails, rose gardens, and charming paths that lead to other attractions, such as the Hunger Wall and the Mirror Maze.
For both locals and tourists, the Petřín Lookout Tower holds a special place as a tranquil oasis and a symbol of Prague's beauty. Whether you're enjoying a leisurely stroll through its gardens or marveling at the city from its heights, the tower offers an enchanting experience that celebrates the marriage of art, engineering, and nature
St. Nicholas Church, or Kostel svatého Mikuláše in Czech, is a masterpiece of Baroque architecture located in the heart of Prague's Lesser Town (Malá Strana). This magnificent church stands as a testament to the artistic and spiritual heritage of the city.
Construction of St. Nicholas Church began in the early 18th century, and it was completed over several decades under the guidance of various architects. The result is a stunning example of the Baroque style, characterized by its grandeur, ornate decoration, and the clever use of light and space.
The exterior of St. Nicholas Church features a beautiful facade adorned with sculptures and intricate detailing. The twin towers that flank the entrance are iconic symbols of Prague's skyline and offer panoramic views of the city from their summits.
Inside, visitors are greeted by a vast, light-filled interior that is both awe-inspiring and harmonious. The central nave is adorned with lavish stucco decoration, gilded accents, and frescoes that tell biblical stories. The high dome, supported by towering columns, adds to the sense of grandeur.
One of the most striking features of St. Nicholas Church is its exquisite pipe organ, considered one of the finest in Europe. The organ's ornate case and the instrument's exceptional sound have made it a sought-after venue for classical concerts and recitals.
St. Nicholas Church is not only a place of worship but also a cultural and artistic treasure. Its beauty and acoustics make it a popular choice for music performances and weddings. It stands as a symbol of Prague's rich artistic heritage and serves as a reminder of the city's enduring connection to spirituality and art.
The National Theatre in Prague, known as the "Národní divadlo" in Czech, is a cultural and architectural masterpiece that has been a cornerstone of the city's artistic life for over a century. Situated along the banks of the Vltava River, this grand theater is a symbol of Czech national identity and a testament to the enduring love for the performing arts.
Construction of the National Theatre began in the late 19th century and was financed by a nationwide collection campaign, emphasizing the theater's importance to the Czech people. The theater officially opened in 1881 with a performance of Smetana's opera "Libuše."
The National Theatre's Neo-Renaissance facade is a striking sight, adorned with allegorical statues and intricate detailing. The interior is equally impressive, with opulent decoration, rich red velvet, and a breathtaking chandelier in the main auditorium.
The theater is home to several artistic ensembles, including opera, drama, and ballet companies. It is renowned for its exceptional performances of Czech classical works, as well as international productions.
Visitors to the National Theatre can attend world-class performances in a setting that exudes grandeur and cultural significance. It's not just a venue for entertainment; it's a place where history, art, and the Czech spirit converge, making it a must-visit destination for anyone seeking a deep appreciation of Prague's cultural heritage.
The Dancing House, known locally as "Tančící dům," is a modern architectural marvel that stands in striking contrast to the historic buildings of Prague's cityscape. Designed by renowned architects Frank Gehry and Vlado Milunić, this extraordinary structure is a symbol of contemporary design and artistic expression.
Completed in 1996, the Dancing House is often referred to as "Fred and Ginger" due to its dynamic, curvaceous forms that evoke the image of a dancing couple. It's a testament to the deconstructivist architectural style, characterized by irregular shapes and the breaking of traditional architectural norms.
The building's unconventional design incorporates a combination of materials, including glass and concrete, creating a visual interplay of transparency and solidity. The undulating lines of the facade give the impression of movement and fluidity, making it a true architectural spectacle.
The Dancing House houses a variety of spaces, including office spaces, a hotel, and a rooftop restaurant. The top floor offers panoramic views of Prague, providing a unique perspective on the city's historic landmarks juxtaposed with this contemporary masterpiece.
While the Dancing House initially sparked controversy for its departure from Prague's historical architecture, it has since become an iconic and beloved symbol of the city's embrace of modernity and creativity. It stands as a testament to the evolving nature of architectural expression and the enduring allure of Prague as a hub of art and innovation.
Olšany Cemetery, or Olšanské hřbitovy in Czech, is one of the largest and most historically significant burial grounds in Prague. This vast cemetery, covering approximately 50 hectares, is not only a final resting place for countless individuals but also a place of cultural and historical importance.
Established in the late 19th century, Olšany Cemetery was created to address the overcrowding of Prague's existing burial sites. Its layout is a testament to the park-like "garden cemetery" concept that was popular during the era, with tree-lined avenues, well-tended green spaces, and artistic monuments.
The cemetery is divided into several sections, each with its unique character. One of its most notable sections is the Slavín Monument, a grand mausoleum and memorial dedicated to prominent Czech figures, including artists, writers, and politicians. The striking Art Nouveau and Art Deco tombstones scattered throughout the cemetery reflect the architectural styles of their respective eras.
Olšany Cemetery is also the final resting place of many ordinary citizens, soldiers, and victims of historical events, including both World Wars. The cemetery's history is intertwined with the city's, and visiting it is a poignant journey through time and remembrance.
Today, Olšany Cemetery continues to be a place of reverence and reflection. It stands as a testament to Prague's rich cultural and historical tapestry, offering visitors a serene and contemplative space amidst the bustling city, where the past is honored, and the memories of those who came before are preserved.
Some other great places to visit are Madame Tussauds, Candy Miners, Prague Zoo, State Opera, and many museums like Speculum Alchemiae Museum, Illusion Art Museum, NaFilM: National film museum, and Museum of Senses to name a few. While these are just a taste of Prague's treasures, be sure to venture into the lesser-known streets and neighborhoods to uncover the city's true essence. Prague's history and architectural wonders ensure an unforgettable experience for every traveler.
I won't end this section without highlighting the places we visit in our short trip to Prague. So, here it goes. We visited Prague Castle, Charles Bridge, Wenceslas Square, Old Town Square, Astronomical Clock, John Lennon Wall, Kampa Island, Strahov Monastery & Library, Church of Our Lady, Narodni Museum, Madame Tussauds, St. Nicholas Church, Dancing House, and Hradčany.
10 Top-Rated Restaurants and Cafes to Try in Prague
Here are 10 top-rated restaurants and cafes to try in Prague (as per internet):
These top-rated restaurants and cafes in Prague offer a diverse range of culinary experiences, from traditional Czech dishes to international cuisine, ensuring a delightful dining experience during your visit to the city.
Funnily enough, we didn't try any of these restaurants. Instead, we tried a few other great restaurants per our liking (since we like spicy and sweet food) and loved those. Some of them are:
Philly and Co's Original Cheesesteaks
We had our first lunch at Philly and Co's Original Cheesesteaks. It is a popular eatery in Prague known for serving authentic Philadelphia-style cheesesteak sandwiches. Despite being located far from the streets of Philadelphia, this restaurant brings the taste of the iconic cheesesteak to the heart of Prague. Here, you can savor thinly sliced beefsteak or chicken with melted cheese, sautéed onions, and other toppings, all packed into a fresh roll. It's a delicious and satisfying option for those craving a taste of American comfort food while exploring the Czech capital. Philly and Co's Original Cheesesteaks offers a taste of Philly in the heart of Europe.
We tried their Chicago Cheesesteak and Chilli Philly Cheesesteaks and both tasted great. The lunch costed us around 600 CHK (25 Euros).
My Rating: 3/5
My Husband's Rating: 4.5/5
Every time we craved coffee in Prague, our stop would be Costa Coffee. Their coffee and cakes are just perfect to refresh your mood and take away the weary feeling after long walks exploring Praha. Costa Coffee is a well-known international coffee chain, and they have several branches in Prague, the capital of the Czech Republic. The exact cost of items at Costa Coffee in Prague can vary depending on the location, size of the coffee, and any additional add-ons or snacks. On average 2 cups of coffee and 2 slices of cake would cost us around 400-500 CHK (15-20 Euros) depending on what we ordered.
My Rating: 4.5/5
My Husband's Rating: 4/5
It is relatively a lesser known cafe mostly for breakfast but is super cute with pretty amazing food. We had our first breakfast there and tried their Francouzská Snídaně, Tři Míchaná Vejce Se Sýrem Gruyére, Ranní Probuzení, and Hořká. It costed us around 700 CHK (28 Euros).
My Rating: 3.5/5
My Husband's Rating: 4/5
Another absolutely amazing restaurant we visited is Terasa U Prince. Not only because of its food but also because of the spectacular view it offers from its terrace. Terasa U Prince, also known as the Terrace at Hotel U Prince, is a popular rooftop restaurant and bar located in the heart of Prague's Old Town. This restaurant is renowned for its stunning panoramic views of the historic Old Town Square, including the Astronomical Clock and the picturesque architecture of Prague. This restaurant is not only a place to enjoy a delicious meal but also an opportunity to soak in the beauty of Prague's historic city center from a unique vantage point. It's a popular choice for both tourists and locals looking for a memorable dining experience.
My Rating: 4/5
My Husband's Rating: 4.5/5
Other restaurants and cafes we tried were Cafe 22, Mangal, Sangam (their biryani is to die for), and Crème de la Crème (have one of the tastiest chimney icecreams).
10 Top-Rated Hotels in Prague
Prague offers a wide range of accommodations to suit various budgets and preferences. If budget is not an issue then you can definitely choose a hotel from this list and enjoy not just the picturesque views of the city but your stay at the hotel too.
Four Seasons Hotel Prague: This luxurious hotel boasts a prime location along the Vltava River, offering stunning views of Prague Castle. It's known for its exceptional service and elegant rooms.
Aria Hotel Prague: A boutique hotel with a musical theme, Aria Hotel is set in the historic Mala Strana district. It offers stylish rooms and a rooftop terrace with panoramic views.
The Emblem Hotel: Located in the heart of Prague, this chic and contemporary hotel offers comfortable rooms, a rooftop terrace, and a spa. It's within walking distance of major attractions.
Mandarin Oriental, Prague: Housed in a former monastery, this five-star hotel offers a tranquil atmosphere in the heart of the city. It features luxurious rooms and a serene spa.
Hotel Paris Prague: An Art Nouveau gem, Hotel Paris is known for its ornate architecture and classic elegance. It's centrally located near Old Town Square and offers excellent dining.
The Grand Mark Prague: This upscale hotel combines modern design with historical elements. It features a beautiful courtyard garden, spacious suites, and a wellness center.
Hotel U Prince: A charming boutique hotel situated right on Old Town Square, Hotel U Prince offers unique rooms and a rooftop terrace restaurant with panoramic views.
BoHo Prague Hotel: Boasting a minimalist design, BoHo Hotel is located in a quiet area yet close to major attractions. It offers comfortable rooms and excellent service.
Art Deco Imperial Hotel: This historic hotel features lavish Art Deco design. It's centrally located and offers elegant rooms, a spa, and a renowned café for afternoon tea.
Ventana Hotel Prague: A stylish boutique hotel overlooking the Old Town Square, Ventana Hotel offers comfortable rooms and easy access to Prague's iconic landmarks.
Please note that availability and prices may vary, so it's a good idea to check the latest reviews and rates on travel websites or booking platforms when planning your stay in Prague. These top-rated hotels offer a range of amenities and atmospheres, ensuring a memorable visit to the city.
10 Best Budgeted Hotels in Prague
If you are on a tight budget or travelling in a peak season (when finding a hotel is super difficult) then here is a list of the 10 great budget-friendly accommodations in Prague:
Ibis Praha Old Town: The Ibis Hotel chain offers affordable and comfortable stays. This one is conveniently located in Prague's Old Town, providing easy access to major attractions.
A&O Prague Rhea: A budget-friendly option with clean rooms, A&O Prague Rhea offers a simple and comfortable stay. It's located near a tram station for easy transportation.
Hostel One Prague: A popular hostel for budget travelers, Hostel One Prague offers a friendly atmosphere, social events, and comfortable dormitory-style rooms.
Plus Prague: This hostel offers a range of budget accommodations, including dormitories and private rooms. It has excellent facilities, including a swimming pool and bar.
Mosaic House: Mosaic House is a budget-friendly hotel/hostel that focuses on sustainability. It offers eco-friendly accommodations and a relaxed atmosphere.
Sophie's Hostel: Located in the New Town area, Sophie's Hostel provides affordable private rooms and dormitories. It's known for its clean and modern design.
The MadHouse Prague: If you're a solo traveler looking to meet new people, The MadHouse offers a vibrant hostel experience with communal dinners and activities.
Czech Inn: Situated in the trendy Vinohrady neighborhood, Czech Inn offers a mix of dorms and private rooms with a welcoming atmosphere.
Hostel Santini Prague: This budget-friendly hostel is located in the Lesser Town (Mala Strana) and provides cozy accommodations with easy access to Prague Castle.
Sir Toby's Hostel: Located in a quiet residential area, Sir Toby's Hostel offers affordable dorms and private rooms with a communal kitchen and a lively bar.
These budgeted hotels and hostels in Prague cater to travelers seeking comfortable and economical options while exploring the city's rich history and culture. Remember to book in advance, especially during peak tourist seasons, to secure your stay at the best rates.
30 Fun Activities to Do in (or Around) Prague
Prague offers a wealth of activities to suit a wide range of interests. Here are 30 activities to do in Prague:
Historical and Cultural Activities:
Explore Prague Castle: Visit the largest ancient castle complex in the world, featuring St. Vitus Cathedral and the Old Royal Palace.
Charles Bridge: Stroll across this iconic bridge adorned with statues of saints and enjoy panoramic views of the city.
Astronomical Clock: Witness the hourly show at the famous Prague Astronomical Clock in the Old Town Square.
Jewish Quarter: Explore the rich history of the Jewish Quarter, including synagogues, the Jewish Museum, and the Old Jewish Cemetery.
Vyšehrad: Discover this historic fortress with ancient walls, a riverside park, and stunning views of Prague.
John Lennon Wall: Admire the ever-changing wall adorned with graffiti and messages inspired by the Beatles and John Lennon.
National Gallery: Explore Czech and international art collections at various locations across Prague.
Scenic and Outdoor Activities:
Vltava River Cruise: Take a relaxing cruise on the Vltava River to see Prague from a different perspective.
Petřín Hill: Climb or take the funicular to the top of Petřín Hill for panoramic views and peaceful gardens.
Letná Park: Enjoy a walk or picnic in this beautiful park overlooking the city.
Paddle Boating: Rent a paddleboat and explore the Vltava River, passing under picturesque bridges.
Food and Drink Experiences:
Try Czech Cuisine: Savor traditional Czech dishes like goulash, svíčková, and trdelník pastries.
Beer or Wine Tasting: Enjoy a Czech beer in one of the city's many pubs or breweries or sample local wines at a Prague wine bar.
Chimney ice creams: Try delightful, chimney-shaped pastries filled with creamy ice cream and various toppings.
Food Tours: Join a food tour to taste a variety of Czech and international delights.
Cultural and Entertainment Activities:
Classical Concerts: Attend a classical music concert in one of Prague's historic venues.
Ballet or Opera: Enjoy a performance at the Prague National Theatre or the State Opera.
Museum Hopping: Visit museums like the Museum of Communism, Museum of Miniatures, or the Mucha Museum.
Black Light Theatre: Experience the unique art form of black light theater with colorful, visually captivating shows.
Shopping and Markets:
Wenceslas Square: Shop for souvenirs, fashion, and more in this bustling boulevard.
Havelská Market: Explore the oldest market in Prague for crafts, fresh produce, and local goods.
Palladium Shopping Center: Discover a wide range of shops and boutiques in this modern shopping complex.
Off the Beaten Path:
Kampa Island: Visit this peaceful island with picturesque views of Charles Bridge and unique sculptures.
Divoká Šárka Nature Reserve: Escape the city and explore the natural beauty of this park.
Lobkowicz Palace: Explore the collections of this private palace, including art, music, and historical exhibits.
Day Trips:
Kutná Hora: Take a day trip to this UNESCO-listed town known for the Sedlec Ossuary (Bone Church).
Český Krumlov: Visit the charming town of Český Krumlov with its well-preserved medieval architecture.
Karlovy Vary: Relax in the spa town of Karlovy Vary, famous for its thermal springs.
Karlštejn Castle: Explore this medieval castle located in the picturesque Czech countryside.
Terezín Concentration Camp: Pay your respects and learn about the history of this WWII-era camp on a day trip.
With such a diverse range of activities, Prague offers something for every traveler's taste and interest, making it a truly captivating destination. Here is a little glimpse of our trip to Prague.