Best places for skydiving – Skydiving; the ever growing craze
Skydiving is becoming even popular as more and more people opt-in every year for skydiving. The uplifting adrenaline, the feeling of coming over your fears, the power of letting go of everything, these are the thing that skydivers crave for. Each year number of skydivers significantly increase because Skydiving is one thing that most people have on their bucket list. This makes many people wonder what are the best places for skydiving.
Base jumping, bungee jumping, parachute jumping, and skydiving are all kind of the same fun activity. As all of them give you a sense of carefree, extreme fun which is like nothing else. Sure, you can opt for indoor Skydiving and we keep seeing people over the internet searching for indoor skydiving near me, but what's the fun in that?
We believe it's better to have an outdoor adventure if you are thinking of indoor skydiving because outdoor would be very risky or dangerous. Then we suggest you just try paragliding instead. That will help you overcome your fear of heights and in future possible convince you to skydive. Skydiving is an amazing experience that everyone should try at least once in their lifetime.
So, if you have been thinking for a while to skydive and wondering where could I go for Skydiving near me, then do not worry anymore. We picked out some places for you. Whether you are in the United States or not, here are some of the best places for skydiving.
Best places for skydiving In The U.S :
1)

Waialua,

Hawaii, United States
Hawaii is one of best places for skydiving, with the most beautiful scenery. You can jump or skydive from 12,000 to 20,000 feet above Hawaii. Skydiving along with a trainer or expert is safer than alone. In Hawaii, while skydiving you can absorb all the beauty below and all the clear sky above while dropping down at 120 miles per hour.
2) Snohomish, Washington, United States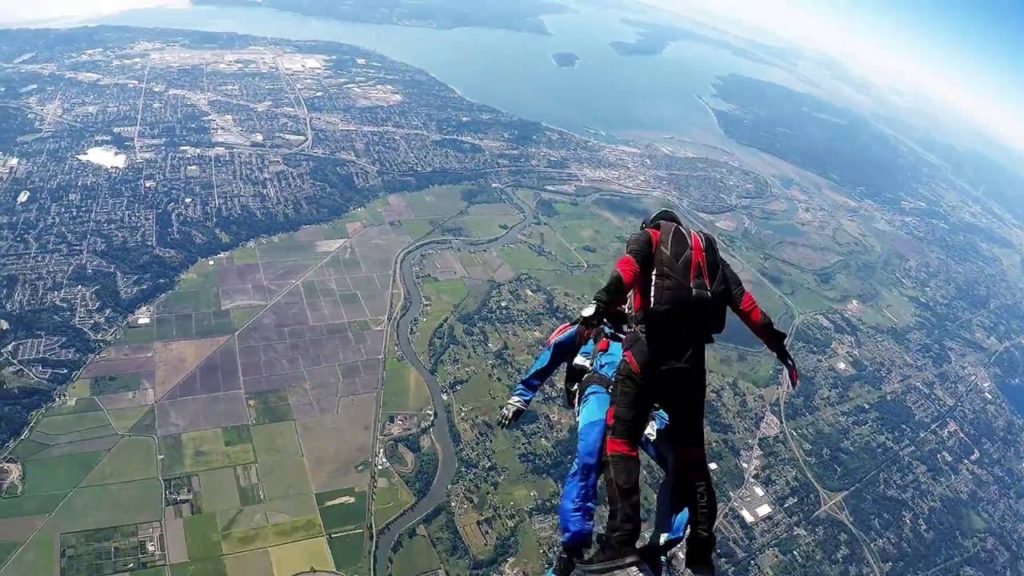 While skydiving above Snohomish, Washington you can view the beautiful Mt. Rainier and Mt. Baker in the Cascades Mountain Range and the green San Juan Islands. Snohomish is known for being one of the gorgeous skydiving sites in the US.
3) Moab, Utah, United States
Skydiving above the beautiful, breathtaking Arches National Park in Moab is a lot of fun. You can view huge sandstone arches, hiking trails and mountains of red-rock monoliths. Free open nature and empty skies, this is what you will get if you choose to skydive in Moab, Utah.
4) Key West, Florida,  U.S.A.
Florida is amazing to view from the top , even on a helicopter ride. But skydiving above key west in Florida, you get to see the views of the Florida reefs, Gulf of Mexico, and the Florida Keys. Along with this amazing view if you are lucky you can catch a glimpse of dolphins and tropical birds too. Although skydiving sounds scary here it is rather relaxing, as you get to absorb such beauty while free falling.
5) Grand Canyon, Arizona, United States

Grand Canyon is one of the most amazing and meaningful natural wonders. Skydiving experience above the Grand Canyon is sheer epic. You get to see the great Grand Canyon coming towards you when you Skydive. This place surely adds a remarkable memory even if only visit it. But skydiving in the grand canyon is like a dream come true to some people.
6) Pocono Mountains,  Pennsylvania, U.S.A
The Pocono Mountains have a stunning mountain scenery that you can enjoy your skydive here. Along with this you also get to view the Manhattan Skyline. You can skydive at Pocono Mountains from 13,500 feet.
Best international locations for skydiving
(Outside United States)
1) Palm Jumeirah, Dubai
For skydiving, the Palm Jumeirah is probably one of the most famous places on earth. Not to mention the view from the top of Palm Jumeirah is just breathtaking. But if you are really planning to skydive here then make your reservation at least one to two months in advance. As tourists are flooded in Dubai so, there is always somebody jumping out of a plane above palm Jumeirah.
2) Mount Everest, Nepal
The highest peak of the world undoubtedly. So what if you are not a mountain climber, you can still feel top of the world when you are literally seeing it below while skydiving from Mount Everest in Nepal. You skydive here at 23,000 feet with Mount Everest in view. But such extreme fun cost some good amount of money too. About 18,000$ to 20,000$ to be precise.
3) Fox Glacier, New Zealand
New Zealand is known for extreme sports, with its shockingly beautiful sights and the wonderful climate. New Zealand is arguably the top country in the world for skydiving. Fox Glacier is an 8-mile long glacier located in the remote Westland Tai Poutini National Park on the West Coast of New Zealand's South Island.While free falling you can view of the wild coastline along the Tasman Sea and the snowy rugged peaks of the Southern Alps.
4) Interlaken, Switzerland
Interlaken, Switzerland is considered a hub for adventure sports. For many divers, it is the most scenic drop zones in Europe. While up in the sky at this drop zone, you can get borderline views of Italy, France, Germany, and Austria. Both beginners and experienced divers admire Interlaken as it provides soul lifting views of snow-capped peaks of Jungfrau and the Matterhorn in the Alps.
5) Livingstone, Zambia
Just look at this picture above, such a beautiful sight of Victoria Falls. Surely, it has to be among the best places for skydiving. It is the largest waterfall in the world. Here you can jump from 6,000 to 10,000 feet. Just grab on some courage and you are good to go. You can experience the beauty of Zambia from the high above.
6) Cape Town, South Africa
Cape Town, South Africa is also another great place for foreign skydivers. Divers can jump from 9,000 feet and admire views of Table Mountain and Robben Island on their way down in the fall. At about 5,000 feet the instructor will deploy your parachute and then you can slowly descent while still enjoying the terrific scenery.
Our Final Thoughts
Skydiving is an amazing experience that you should indulge yourself in. All it takes a little courage to make some of the most cherished memories of your life.
If you are just thinking about it now, or have been pushing this on your to-do list for a long time. We highly emphasize that you take the initial step. Pick one of these locations which we think are best places for skydiving and just head towards it.
The adventure will follow.