How To Make Pancakes At Home Step-By-Step
I'm fond of pancakes and I truly love them like nothing else. All this time, whenever I feel the craving to eat pancakes, my mommy comes for the rescue. This way, I never had to struggle with my desires. And then I got married!!
One day, I was bragging about how my mom makes the most amazing pancakes in the world and there is when it got real. My husband asked me to make pancakes for him following my mom's recipe. For the very first time, I realized that I should have learned how to make pancakes from my mom.
Luckily, my mom doesn't live that far away so, I told her about my husband's demand and asked her to teach me how to make the best pancakes at home.
Here's the recipe that my mum told me to make the world's best pancakes at home easily. Since you're here I am pretty sure you also want the magical recipe to the pancakes. So, here you go!!
P.S: I made pancakes for the first time for my husband and he literally loved them.
How to make the best pancakes at home easily
Treat: You can also add chocolate syrup to the mixture to make them chocolate and even more yummy.
Preparation time: 25 mins
Cooking time: 8-10 mins
Serves: 4 person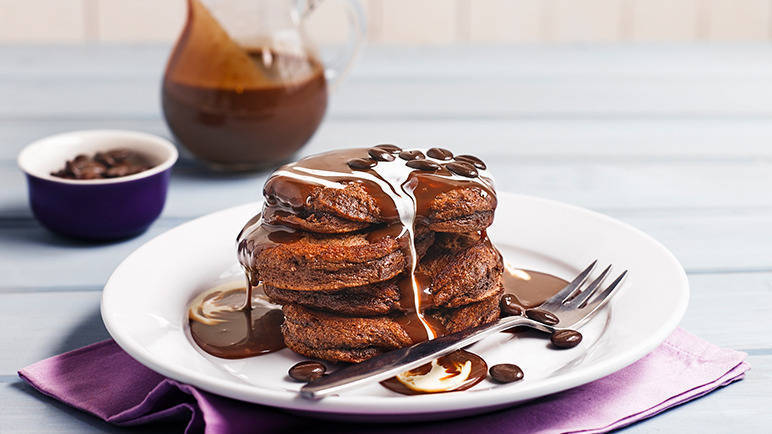 Ingredients
200g/7oz all-purpose flour
4 teaspoons baking powder
2 whisked large eggs
1 tbsp vegetable oil
1 tbsp white sugar
1 tbsp salt
350ml/12fl oz milk
Method
Take a large bowl
Put the flour into it
Pour in the milk
Add the lightly whisked eggs.
Whisk the mixture until you have a smooth batter
Add vegetable oil and continue whisking.
Take a crepe pan (or a frying pan)
Heat the pan over for a minute.
Add a ladleful of batter
Swirl it around the pan to get an even layer
Cook the pancake for 30–40 seconds
Use a palette knife to lift the pancake and check if it is golden-brown from the lower side
Once it has turned golden brown then turn it over
Cook the other side until it also turns golden brown
Transfer to a serving plate
Serve it to your friends or family
Enjoy the delicious pancakes and make sure to give your feedback as well.