Facebook Face Recognition Feature Rolls Out In UK – But It Is Optional, Or Is It?
Facebook is always coming up with some new features and this time, it is Facebook face recognition.
In Europe, Facebook users including Jimmy Nsubuga, a journalist at Metro, are announcing that the organization has begun giving them the choice to turn on its questionable facial recognition technology.
Facebook Face Recognition Feature
But what Facebook has to say about it?
Facebook talked about its newly rolled out Facebook face recognition feature and its acceptance, it says in a blog post,
"Our face recognition features help protect your privacy and improve your experiences, like detecting when others might be attempting to use your image as their profile picture and allowing us to suggest friends you may want to tag in photos or video. We've offered products using face recognition in most of the world for more than six years. As part of this update, we're now giving people in the EU and Canada the choice to turn on face recognition. Using face recognition is entirely optional for anyone on Facebook."
Also, about clearing up that the use of feature solely depends on the user's free will, Facebook says,
"We're asking everyone in the EU whether they want to enable face recognition, and only people who affirmatively give their consent will have these features enabled. We did not intend for anyone in the EU to see this type of message, and we can confirm that this error did not result in face recognition being enabled without the person's consent."
That means there will be an option to turn on the Facebook facial recognition feature, but, Facebook won't turn it on without your consent.
Is it Facebook's new way of invading privacy?
Facebook has beforehand said an option would be pushed out to every user globally. In Europe, the organization is trying to persuade users to willingly enable it to send the security unfriendly tech — which was killed in the coalition after administrative pressure, in 2012, when Facebook started utilizing facial recognition in tagging friends automatically.
Users who are not willing to switch to Facebook facial recognition still need to navigate a 'continue' screen. And bizarrely, on this screen Facebook endeavors to persuade them to turn it on — utilizing manipulative instances of how the tech can "secure" them.
Jennifer Bekker picks on Facebook in her tweet pointing out Facebook facial recognition feature that it's extremely disingenuous to trick users to turn it on.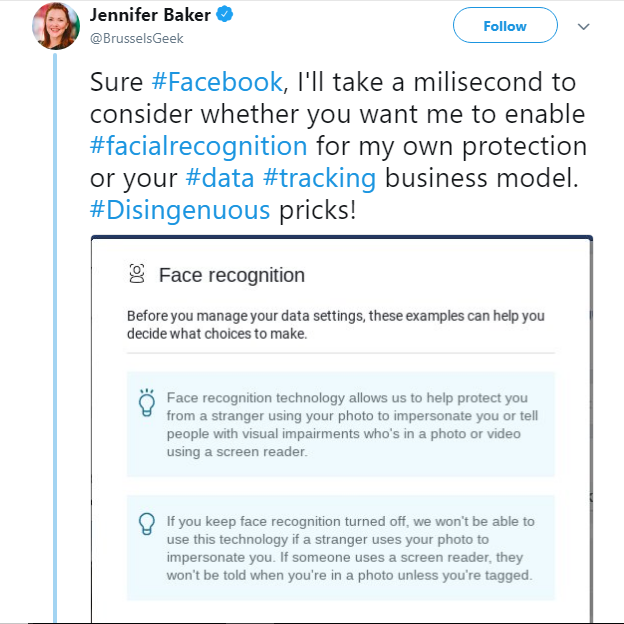 As per the EU's incoming data protection framework, Facebook can't turn facial recognition feature without user's consent — it needs to persuade individuals to switch the tech on themselves. So it is underscoring that users can pick regardless of whether to empower the new tech-feature. But data protection experts ware against this Facebook's approach and don't believe that it is the right approach to consent will be legal under GDPR.
As per the sources, a Facebook spokesperson talked about the feature and confirmed that Facebook had already run a test of a very similar feature to a small number of users in the EU back in March, she said,
"The flow is not a test, it is part of a rollout we are doing across the EU. We are asking people for opt-in consent for three things — third-party data for ads, facial recognition and the permission to process their sensitive data.The flow + wording was broadly the same. At all times it was opt-in."
However, we can't say exactly what percentage of the Facebook users were a part of the previous test done, but, we can say one thing for sure that manipulation to get a person's consent is not what we call free-will or free-choice.
Be that as it may, contingent upon how fruitful those tests turn out to be at persuading Europeans to give it a chance to have and utilize their facial biometric information, a large number of Facebook users could soon be giving the organization new floods of delicate information — and having their basic rights stomped on, once more, because of an exceptionally manipulative assent stream.