MTV VMAs 2018 Highlights and Complete Winners List: Ariana Grande, Nicki Minaj, Cardi B, And Other Celebrities Must-See Moments
The MTV VMAs were as elegant as ever, and with such a large number of celebrities and stars in the room. At the point when this awards show is known for the drama, this time beside one genuinely odd Aretha Franklin tribute from Madonna, the current year's show was in reality quite agreeable. Indeed, even the fight between Nicki Minaj and Travis Scott didn't result in any on-screen clumsiness. In any case, there were some eye-catching minutes that you all shouldn't miss to know. Continue reading for all the MTV VMAs 2018 highlights and complete winners list…
MTV VMAs 2018
Highlights and All the Must-See Moments from MTV VMAs 2018
Ariana Grande Stunned The Show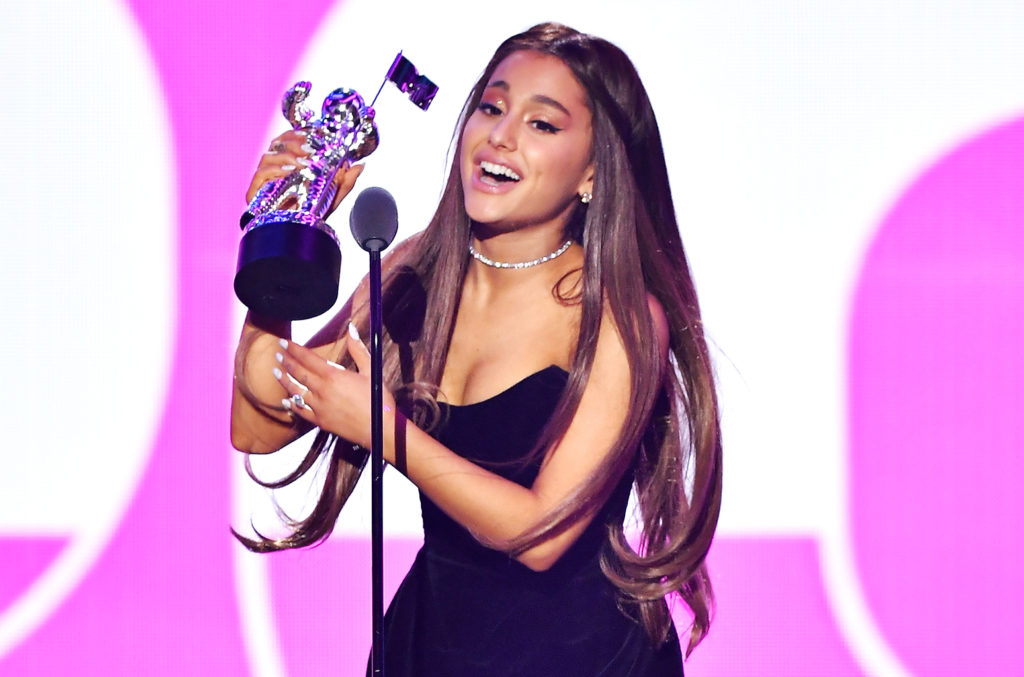 Ariana Grande performed on her song, God Is A Woman, and her performance of that tune gave us one of the performances of the night.
It began with Ariana and a cast of female artists – including a dark female two-piece wearing Jesus – sitting at a long table, summoning The Last Supper, Leonardo Da Vinci's work of art of Jesus and his pupils.
What's more, it completed with Ariana's cherished Nonna, her mom Joan and cousin Lani joining her dramatic, as an inseparable unit in a show of female solidarity.
That wasn't the main minute where Ariana got individuals talking.
At the point when Nicki Minaj strolled up the means to gather the honor for best hip-hop, it was Ariana who ventured out from her front-push seat to spare the rapper from stumbling on her dress.
Also, fans spotted something different. Already, on the pink cover, Grande was adored up with life partner Pete Davidson, who was wearing a home-made globule wrist trinket bearing the initials AGD – Ariana Grande Davidson. Aww.
Nicki Minaj Was Slaying Like Always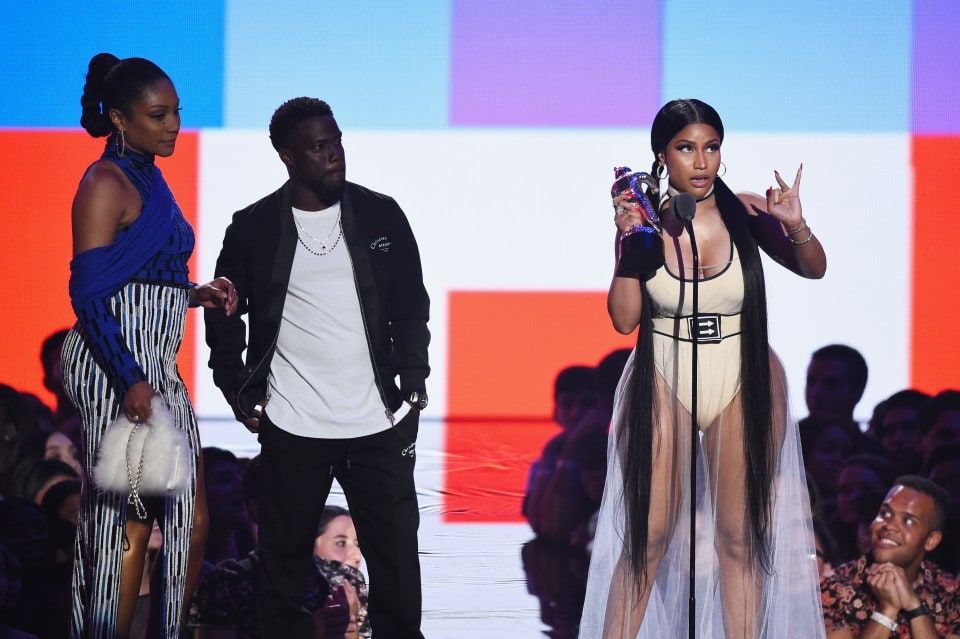 In her introduction to the show, Tiffany Haddish figured out how to damage Camila Cabello's name before proceeding to diss Camila's previous Fifth Harmony sisters as she said,
"Y'all know I can't read that good – I only speak English", followed by, "She's nominated for five VMAs tonight. I'm super proud of her. So those of you watching at home… Hi Fifth Harmony!"
To which Camila angrily shook her head to ensure the world that she didn't favor what was said.
In any case, Nicki Minaj was there for Fifth Harmony. After securely exploring the means to gather her hip-hop award- and after she gave us a view through her dress – she ticked off Tiffany: "Don't be coming for Fifth Harmony."
Cardi B Being Cardi B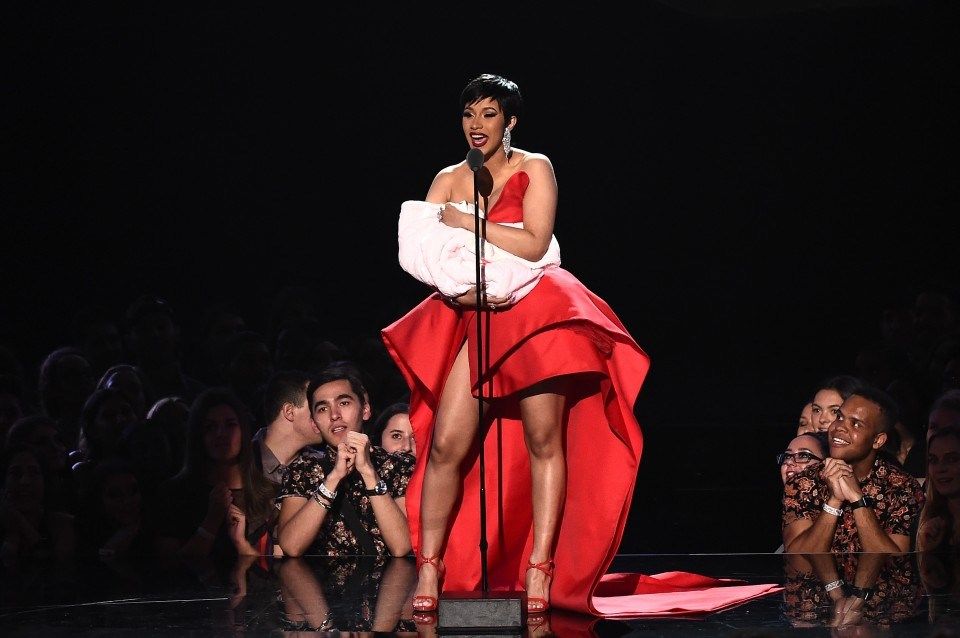 Cardi B had been relied upon to give her first performance since conceiving her child a month ago, yet she didn't perform.
Rather, she opened the show – uncovering a recently trimmed hairdo – and put on a show to breastfeed in front of an audience, holding a heap of covers to her chest as she gave a short presentation.
Given this current function's history of stun, a whiz breastfeeding at an award service would have been really radical. In any case, Cardi spread out the covers to uncover one of the VMA trophies.
She later won best new craftsman and utilized her acknowledgment discourse to state:
"A couple of months ago a lot of people were saying you're gambling your career, you're about to have a baby, what are you doing? And, you know, I had a baby, I carried a baby, and now I'm still winning awards. All the love that my fans, that my friends, that everybody shows me, is genuine, is beautiful, and that's something that God gave me that you can't buy."
Fans have accepted that last line as a point to the detriment of Nicki Minaj, who as of late gave a meeting discussing record names paying for hits.
J-Lo Sizzles The Stage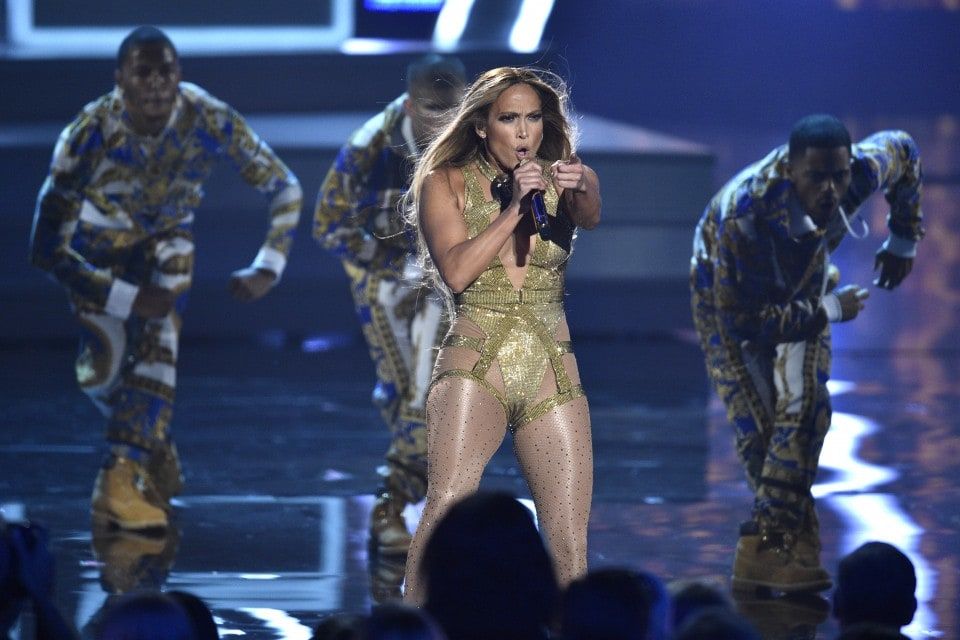 Another main highlight from MTV VMAs 2018 was Jennifer Lopez's performance of a variety of her most noteworthy hits, including Jenny From The Block, Love Don't Cost A Thing and All I Have. She likewise drew out the rapper Ja Rule to play out their 2001 hit I'm Real.
She was then given MTV's yearly Vanguard Award, named after Michael Jackson.
Amid her acknowledgment discourse, she swung to her 10-year-old twins, Maximilian David and Emme Maribel, and said they gave her quality to make strides. "The future is even brighter," she said.
She was additionally viewed on affectionately by her spouse, baseball star Alex "A-Rod" Rodriguez.
Madonna's Speech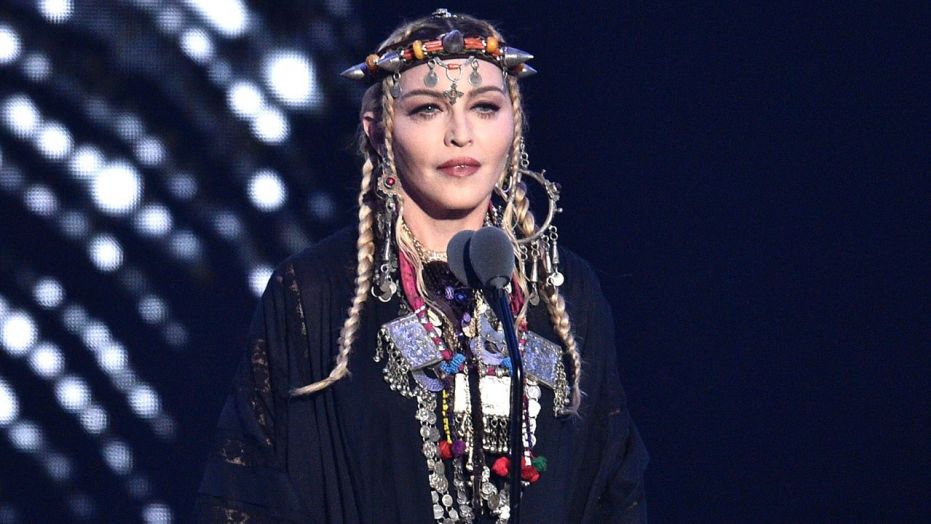 Madonna evidently missed the reminder that when you respect somebody . . . you need to discuss them more than you discuss yourself. That did not occur amid the pop star's tribute to the late Aretha Franklin, as she went ahead about her own particular vocation battles and triumphs, while her few notices of the Queen of Soul resembled an idea in retrospect.
Camila Cabello Won The Best Award Of The Night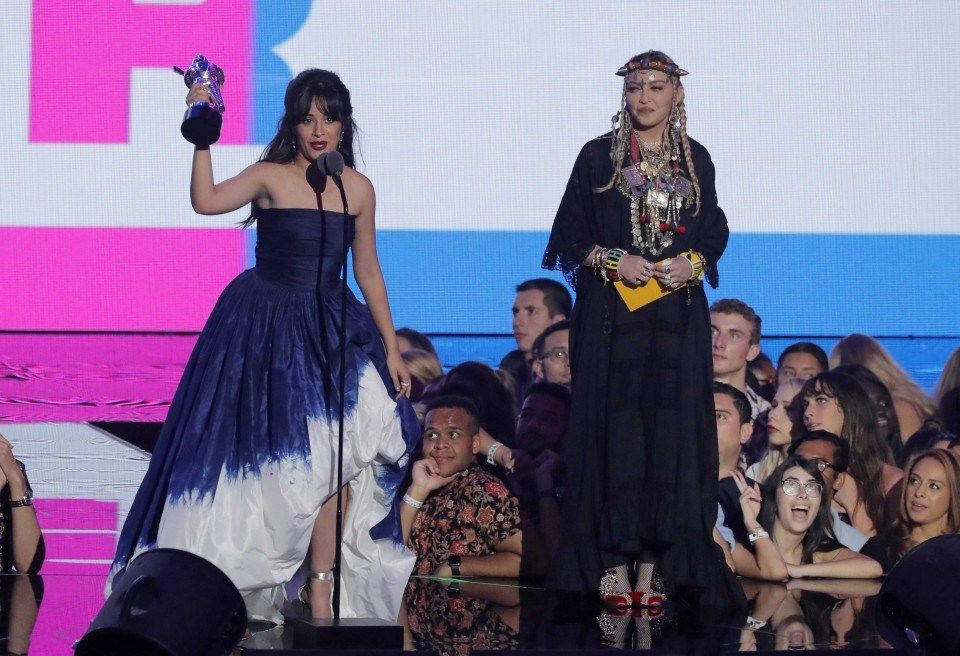 Nobody truly thinks about the VMAs — with the exception of video of the year. In an unexpected triumph, it went to Cabello for her ultra-infectious "Havana," as she prevailed upon Beyoncé and Jay-Z, Drake, Childish Gambino and that's just the beginning. She thanked her fans saying,
"I am fully aware that you never know when you're gonna get a moment like this again. You never know when it's gonna be your last time on this stage. You guys have been here for me since the beginning, and I'm gonna be here for you till the very end. I love you so much."
MTV VMAs 2018 Complete Winners List
VIDEO OF THE YEAR
Ariana Grande — "No Tears Left to Cry"
Bruno Mars ft. Cardi B — "Finesse (Remix)"
Camila Cabello ft. Young Thug — "Havana" (winner)
The Carters — "APES**T"
Childish Gambino — "This Is America"
Drake — "God's Plan"
ARTIST OF THE YEAR
Ariana Grande
Bruno Mars
Camila Cabello (winner)
Cardi B
Drake
Post Malone
VIDEO WITH A MESSAGE 
Childish Gambino — "This Is America" (winner)
Dej Loaf and Leon Bridges — "Liberated"
Drake — 'God's Plan"
Janelle Monáe — "PYNK"
Jessie Reyez — "Gatekeeper"
Logic ft. Alessia Cara & Khalid — "1-800-273-8255"
BEST HIP HOP
Cardi B ft. 21 Savage — "Bartier Cardi"
The Carters — "APES**T"
Drake — "God's Plan"
J. Cole — "ATM"
Migos ft. Drake — "Walk It Talk It"
Nicki Minaj — "Chun-Li" (winner)
BEST NEW ARTIST 
Bazzi
Cardi B (winner)
Chloe x Halle
Hayley Kiyoko
Lil Pump
Lil Uzi Verts
BEST DANCE
Avicii ft. Rita Ora — "Lonely Together" (winner)
Calvin Harris & Dua Lipa — "One Kiss"
The Chainsmokers — "Everybody Hates Me"
David Guetta & Sia — "Flames"
Marshmello ft. Khalid — "Silence"
Zedd & Liam Payne — "Get Low (Street Video)"
BEST COLLABORATION
Bebe Rexha ft. Florida Georgia Line — "Meant to Be"
Bruno Mars ft. Cardi B — "Finesse (Remix)"
The Carters — "APES**T"
Jennifer Lopez ft. DJ Khaled & Cardi B — "Dinero" (winner)
Logic ft. Alessia Cara & Khalid — "1-800-273-8255"
N.E.R.D & Rihanna — "Lemon"
BEST POP
Ariana Grande — "No Tears Left to Cry" (winner)
Camila Cabello ft. Young Thug — "Havana"
Demi Lovato — "Sorry Not Sorry"
Ed Sheeran — "Perfect"
P!nk — "What About Us"
Shawn Mendes — "In My Blood"
SONG OF THE YEAR
Bruno Mars ft. Cardi B — "Finesse (Remix)"
Camila Cabello ft. Young Thug — "Havana"
Drake — "God's Plan"
Dua Lipa — "New Rules"
Ed Sheeran — "Perfect"
Post Malone ft. 21 Savage — "rockstar" (winner)
PUSH ARTIST OF THE YEAR
Chloe x Halle
Sigrid
Lil Xan
Hayley Kiyoko  (winner)
Jessie Reyez
Tee Grizzley
Bishop Briggs
Grace VanderWaal
Why Don't We
PRETTYMUCH
SZA
Kacy Hill
Khalid
Kyle
Noah Cyrus
BEST LATIN
Daddy Yankee — "Dura"
J Balvin, Willy William — "Mi Gente" (winner)
Jennifer Lopez ft. DJ Khaled & Cardi B — "Dinero"
Luis Fonsi, Demi Lovato — "Échame La Culpa"
Maluma — "Felices los 4"
Shakira ft. Maluma — "Chantaje"
BEST ROCK
Fall Out Boy — "Champion"
Foo Fighters — "The Sky Is A Neighborhood"
Imagine Dragons — "Whatever It Takes" (winner)
Linkin Park — "One More Light"
Panic! At The Disco — "Say Amen (Saturday Night)
Thirty Seconds to Mars — "Walk On Water"
BEST CINEMATOGRAPHY
Alessia Cara — "Growing Pains"
Ariana Grande — "No Tears Left to Cry"
The Carters — "APES**T" (winner)
Childish Gambino — "This Is America"
Eminem ft. Ed Sheeran — "River"
Shawn Mendes — "In My Blood"
BEST ART DIRECTION 
The Carters — "APES**T" (winner)
Childish Gambino — "This Is America"
J. Cole — "ATM"
Janelle Monáe — "Make Me Feel"
SZA — "The Weekend"
Taylor Swift — "Look What You Made Me Do"
BEST VISUAL EFFECTS
Ariana Grande — "No Tears Left to Cry
Avicii ft. Rita Ora — "Lonely Together"
Eminem ft. Beyoncé — "Walk On Water"
Kendrick Lamar & SZA — "All The Stars" (winner)
Maroon 5 — "Wait"
Taylor Swift — "Look What You Made Me Do"
BEST CHOREOGRAPHY
Bruno Mars ft. Cardi B — "Finesse (Remix)"
Camila Cabello ft. Young Thug — "Havana"
The Carters — "APES**T"
Childish Gambino — "This Is America" (winner)
Dua Lipa — "IDGAF"
Justin Timberlake — "Filthy"
BEST DIRECTION
The Carters — "APES**T"
Childish Gambino — "This Is America" (winner)
Drake — "God's Plan"
Ed Sheeran — "Perfect"
Justin Timberlake ft. Chris Stapleton — "Say Something"
Shawn Mendes — "In My Blood"
BEST EDITING
Bruno Mars ft. Cardi B — "Finesse (Remix)"
The Carters — "APES**T"
Childish Gambino — "This Is America"
Janelle Monáe — "Make Me Feel"
N.E.R.D & Rihanna — "Lemon" (winner)
Taylor Swift — "Look What You Made Me Do"