Toy Story 4 Teaser Trailer, New Character Forky, Release Date and Cast
Toy Story has been a part of all of our childhoods. Fascinated by these worlds where Toys come alive. Following Andy Davis as he innocently plays with his favorite toys, Meanwhile his toys were coming to life when he wasn't looking. Movies like Toy Story, Jumanji, and How the Grinch stole Christmas (read out the review for the new one here) made our childhoods. The animation for Toy Story was amazing since the first one in 1995, and now almost 23 years later we are about to get the 3rd sequel. More then 20 years after the first Toy Story in 1995, the teaser for the third sequel of the critically acclaimed and loved by millions is here.
Toy Story 4 origin and backstory
It was produced by Pixar Animation Studios and released by Walt Disney Pictures in theaters in the U.S. on November 22, 1995. It was written by John Lasseter, Pete Docter, Joss Whedon, Andrew Stanton, Joel Cohen, and Alec Sokolow, and was directed by Lasseter as well. The film's music was written by Randy Newman. Toy Story is also the first full-length theatrically-released feature film to be made entirely with computer-generated imagery (CGI). Toy Story 2, was released in theaters on November 24, 1999. Eleven years later, Toy Story received a second sequel, Toy Story 3 which was released on June 18, 2010. A third sequel, Toy Story 4, originally set for 2017, but was moved to 2018 and is now set for June 21, 2019.
Toy Story 4 plot
There isn't much info about what the major plot of the movie would be. Because we haven't received a full trailer yet, only one teaser yet. But we know it will follow Buzz and Woody as they go on an adventure to find Bo Peep. Explained below in more detail
As Andy gave his toys to Bonnie at the end of Toy Story 3, the 4th movie will probably follow only Bonnie as she discovers these new toys she got. And takes them on new adventures, we even got to see a new toy whose name was Forky. Here is the full story synopsis for Toy Story 4:
"Woody has always been confident about his place in the world and that his priority is taking care of his kid, whether that is Andy or Bonnie. But when Bonnie adds a reluctant new toy called "Forky" to her room, a road trip adventure alongside old and new friends will show Woody how big the world can be for a toy. Along the way Woody is reunited with an unexpected old friend"
Bo Peep return in Toy Story 4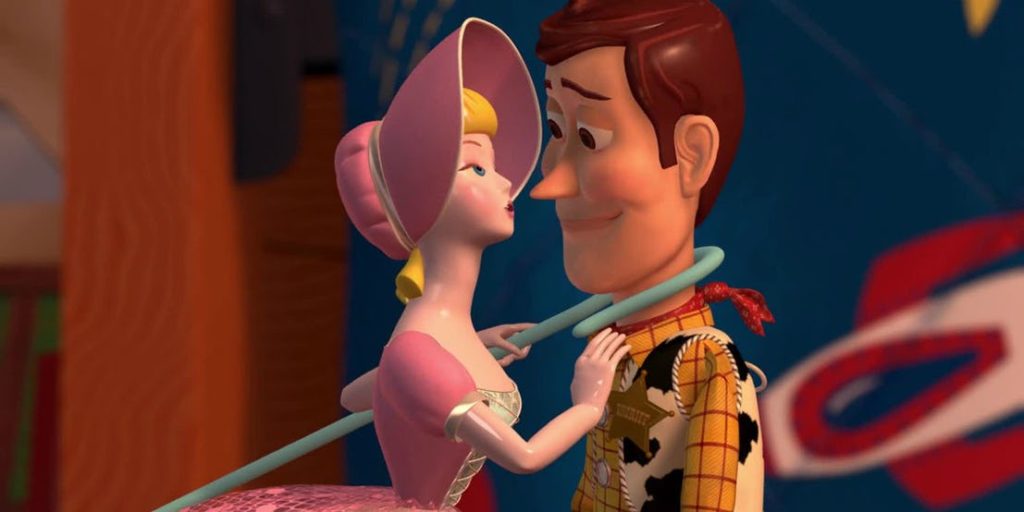 That unexpected old friend is apparently is Bo Peep. She used to be Woody's girlfriend. They even casted the duo Keegan-Micheal Key and Jordan Peele, they will voice Ducky and Bunny respectively. The film is described as a new chapter in the lives of 'Woody, Buzz and the Toy Story gang. The film gonna be a love story between Bo Peep and woody, and will pick up where the 3rd one left off. 
Bo Peep was sold at a yard sale between Toy Story 2 and Toy Story 3. But she is set to be a central character in Toy Story 4. It will surely be nice to see her back and interesting to figure what she has been up to. When the toys are on an adventure in the big wide world, that's when Toy Story feels the best. And looking for Bo Peep will surely lead to some amusing moments. Other details are still in the dark, like what happened to Bo Peep or how all of this will connect to their new owner Bonnie.
Toy Story 4 production
John Lasseter said regarding this film:
"We love these characters so much; they are like family to us. We don't want to do anything with them unless it lives up to or surpasses what's gone before. Toy Story 3 ended Woody and Buzz's story with Andy so perfectly that for a long time, we never even talked about doing another Toy Story movie. But when Andrew, Pete, Lee and I came up with this new idea, I just could not stop thinking about it. It was so exciting to me, I knew we had to make this movie and I wanted to direct it myself. "
John Lasseter also wrote and directed the first two movies. Lee Unkrich directed the third one and Toy Story 4 will be directed by Josh Cooley. It was also revealed that he will be directing it solo as to previous rumors that John Lasseter would co-direct.
Toy Story Features New Character – Forky
They showed a new character in the Toy Story 4 whose name is Forky. Forky is kind and pleasant, though quite nervous and anxiety-ridden. Forky is a white spork with red arms and a unibrow. He has googly eyes, a blue mouth, and pink blushed cheeks. It is yet to be seen how Forky will play a role in this new storyline.
Toy Story 4 release date and cast
Release date
The release date for Toy Story 4 was set to 2017 when it was first announced in 2014. Due to reasons like the leaving of main story writers Rashida Jones and Will McCormick. They completely changed the script and then set the movie to release in the summer of 2018 which obviously didn't happen. Finally, the movie is set to release on June 21, 2019.
Cast
It's not a surprise that Tom Hanks and Tim Allen are gonna be voicing woody and Buzz respectively. It simply wouldn't feel like Toy Story without them. All of the Toy Story cast is reprising their roles. Annie Potts voicing Bo Peep once more, Jodie Benson as Barbie, Joan Cusack as Jessie, and Estelle Harris as Mrs. Potato Head. John Ratzenberger will most probably be Hamm the Pig. Blake Clarke will return as Slinky Dog after assuming control from the late Jim Varney in Toy Story 3. Don Rickles, the voice of Mr. Potato Head, died in 2017 sadly and will not be returning because he wasn't able to record his parts.
There is not full trailer to the film yet but it won't be like that for long. We just received the teaser on Monday and soon will get the full trailer. Till then you might want to read about Detective Pikachu and Ryan Reynold's role in it, here is our review of Detective Pikachu trailer.