Types of Wedding Sarees in the Indian Market
Different types of Wedding Sarees are well-known for their magnificence and vibrant colors. Their reputation is such that many people who are not even of Indian origin prefer wearing them. Many people even accept that wedding sarees are an excellent material for Indian ladies. Right from Kashmir to Kanyakumari, the weaving, draping style, as well as fabric patterns for a saree, differs.
In India, every state has its unique style which has been carried on for generations. In this article, we would be talking about the different types of wedding sarees in the Indian market.
Types of Wedding Sarees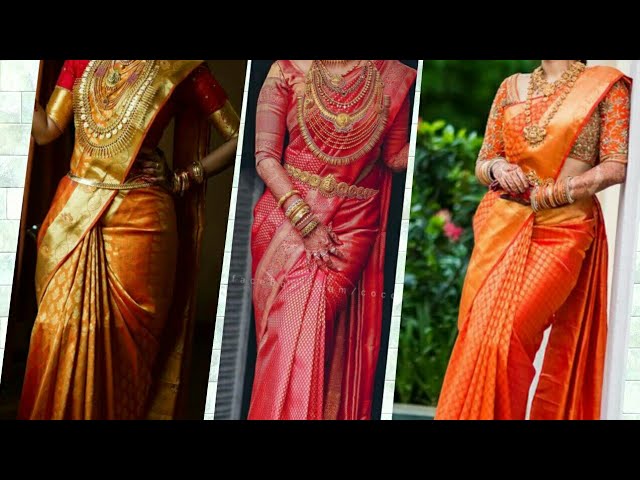 1. Kancheevaram Sarees
Kanjeevaram sarees are one of the most popular wedding sarees in South India. They have the most garnered drape and originate from Kanchipuram, Tamil Nadu. These sarees have earned huge fame due to their vibrant colors as well as excellent borders that have temple patterns. Such sarees make use of a golden thread that gives a sheer elegance to the fabric. Kanjeevaram silk sarees are one of the most cherished possessions of an Indian woman.
2. Banarasi Sarees
Banarasi brocade sarees originated in the Mughal era and became an important part of the North Indian sarees. The designs of these sarees are influenced by the Mughals in the form of foliage and floral and foliage motifs, kalga, and bel. Jhaalar is also a narrow fringe-like pattern for the inner and outer borders. This is a signature pattern of banarasi sarees. Banarasi sarees are available in many marvelous colors and have a sheen texture that makes it quite comfortable to wear regularly. These sarees are crafted in the old city of Varanasi.
3. Chanderi Sarees
The Chanderi sarees are traditionally tailored and designed in Madhya Pradesh, India. These sarees give a pretty peek to a royal look. They are available in different designs such as peacocks, geometrics, and traditional floral art that are designed according to different chanderi patterns. You can wear traditional jewelry along with these sarees to enhance its beauty. Most of the brides wear these as pre or post-wedding saree.
4. Konrad Saree
Konrad sarees are specialty wedding sarees from the state of Tamil Nadu. The Konrad sarees are also known as Temple Sarees as they are usually draped on various Gods and Goddesses in a temple. One of the main attractions of the Konrad sarees is their wide borders as well as wedding-inspired motifs. There are also other motifs such as elephants and peacocks that symbolize fertility and water.
5. Baluchari Saree
The 5-yard Baluchari saree is a popular saree variety from West Bengal which comes in numerous vibrant colors such as purple, red, and deep blue. The Baluchari Saree are made from silk and handlooms and have been in existence for 200 years. Such sarees depict tales from Ramayana or Mahabharata. The borders of these sarees have small butis. There is mostly a floral design that runs across the edges of the saree.
6. Kasavu Saree
Kasavu sarees are handwoven sarees that are mostly available in cream and off-white shades along with a golden border. These are usually worn by Malayali women. Kasavu sarees are one of the finest traditional Indian saris. They define the beauty of every woman in the state of Kerala. The handloom design material and their intrinsic borders in pure golden color make them perfect bridal wear in South India.
7. Kantha Saree
The Kantha sarees are named so due to their unique embroidery, and not because of the fabric used. This embroidery has decorative patterns and designs along with a running stitch. This is why such cloth has stitches with folk, floral, bird as well as animal motifs. Also, Kantha art keeps rural women engaged, the labor and hard work can be seen in these beautiful sarees.
8. Bandhani Saree
The Bandhani sarees are popular in Rajasthan and Gujarat and they are made with a tie and dye technique, better known as 'Bandhej'. This technique involves plucking the cloth into tiny bindings so that they end up forming figurative designs. Also, Bandhani sarees stand out for their unique and vibrant look that makes it a perfect wear for an Indian summer wedding.
9. Tussar Silk
The Tussar exclusive silk fabric sarees are famous among the tribal people of India and are derived from a type of silkworm which is only found in South Asia. The Tussar silk sarees are mostly available in neutral tones such as beige and off-white. One can combine them with a contrasting color such as bright pink or red for getting the perfect bridal look.
Types of Wedding Sarees
Conclusion
Above were the different types of sarees that are suitable for wearing at a wedding. You can choose wedding sarees based on the type and theme of the wedding. Another good option is designer Indian lehenga choli for your wedding.