5 Reasons to Buy a Crystal Photo Cube
The invention of photography changed how we save our precious moments. As technology improved, cameras everywhere helped save precious moments of people, places, and many more. A crystal photo cube helps bring all those to life by adding a whole new dimension, literally.
It is a solid glass piece that contains your desired image, and they have changed displaying photos for the better. Here's why you should consider them:
Memories from All Angles
Printed photos are great to look at, but cannot go beyond the 2-dimensional sheet. A regular photo frame doesn't change that factor when used to display the image. On the other hand, a crystal photo cube renders the image in 3 dimensions within itself, so that it can be viewed from varied angles.
This means the photo can become the center of attraction in your house, rather than sit in a corner somewhere. And anyone you wish to show it to need not crane their necks to get a good look at it, making for a more comfortable exchange of your memories.
Saving the Original
Any regular photo frame will have to have the original photograph placed within it. This means subjecting it to wear and tear due to handling or just the environmental conditions. Digital frames may be a substitute to that, but they will suffer from problems due to continuous usage.
The manufacturers of the 3D photo cubes have a solution to it all. The image you want displaying must be sent to them, and they will have it engraved within the cube itself. And since the image is inside, it will be unaffected by the environment, giving you memories that will truly last long.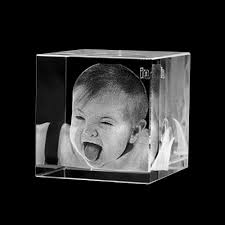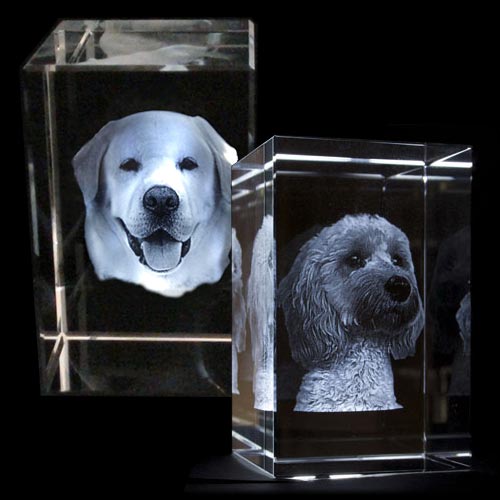 In All Shapes
Most, if not all, frames are made rectangular to capture most of your image. Other shapes are hard to find, and most of them might not suit your taste or style. Customizing it will up the price.
3D crystal ones are made to be customized. Better still, the 3D aspect allows for a whole host of customizations in terms of shape and size. Besides the regular 3D rectangle and cube, you can have diamond, heart, pyramid, etc. It gives the kind of life-like look that 2D frames can never compete with.
Razzle and Dazzles
Want more than the straightforward look that you get with your 3D frame for your image? Feel like you could add a bit of an effect to enhance the emotions in it? No problem. With the variety of cuts available, crystal cubes can be made to have cuts that will give your image a variety of effects, such as kaleidoscopic. It can be made to have a different effect from a different angle too.
You can add the color of light you want, available as a separate accessory. It acts as a stand and gives a glow to the cube's image, spotlighting it for that extra special feeling.
Easy On Everything
Good looks aside, 3D crystal photo cubes are easy on other things too. They take up a relatively small space; any coffee or bedside table will do. They are easy to clean; a gentle wipe occasionally will do. And they are easy on the pocket, considering their longevity.
Life is about moving from one moment to the next. These crystal cubes will keep those you've left behind safe for you to cherish forever.