A Perfect Guide To Conserving Cash Flow – Debt Consolidation For Businesses
Business debt consolidation loans are meant for small businesses who keep on struggling with many repayment schedules for several business loans. Taking a small business debt consolidation loan can actually help you to convert those payments into a single loan along with low-interest rate and specific payment schedule according to the consolidation terms and regulations.
It is really a headache to constantly keep in mind about the loan payment that is due as well as whether there will be an ample amount of cash in hand to make the payment. Instead, it will be much better to track the single unpredictable loan payment with the business debt consolidation facility.
Both the terms, refinancing and debt consolidation are used by people interchangeably. Though both the terms are almost the same, still there are some differences.
Conserve Cash Flow
Refinancing
A new loan is taken at a lower rate of interest to pay back at a higher interest rate.
Debt consolidation
The borrower takes a single loan to pay off the existing multiple loans.
Debt consolidation and Refinancing
Debt consolidation is nothing but a simple form of refinancing; not all refinancing loans can be said as debt consolidation. If you can replace a single loan with a new one at a lower rate of interest, it can be termed as refinancing and not debt consolidation. The main aim of a debt consolidation loan is to convert the multiple existing loans into a single loan.
Plus, the concept that debt consolidation always leads to a lower interest rate is completely wrong. It is needless to say that business debt consolidation can help you to save money, where the main focus of such a loan is to make all the payment in a manageable way by replacing multiple lenders with a single individual. As such, it is quite possible that you might not even get a better rate of interest.
It's really imperative that you become a smart borrower and work with an eminent lender. Also, conduct your own research work as well as check the calculations repeatedly. Before you opt for a business debt consolidation loan, make sure that it is the right selection for your business.
The best business debt consideration loans for you
Secured and unsecured loans for businesses are considered to be long-term debt consolidation loans. It is said so because each of the options is indeed meant for a longer times period than your present funding.
The options for your commercial debt consolidation loan completely depend on your present situation. Your business revenues, credit score as well as the age of your organization, will impact the business debt consolidation loans available to you.
Below, you can read the best long-term consolidation loans available for small business debt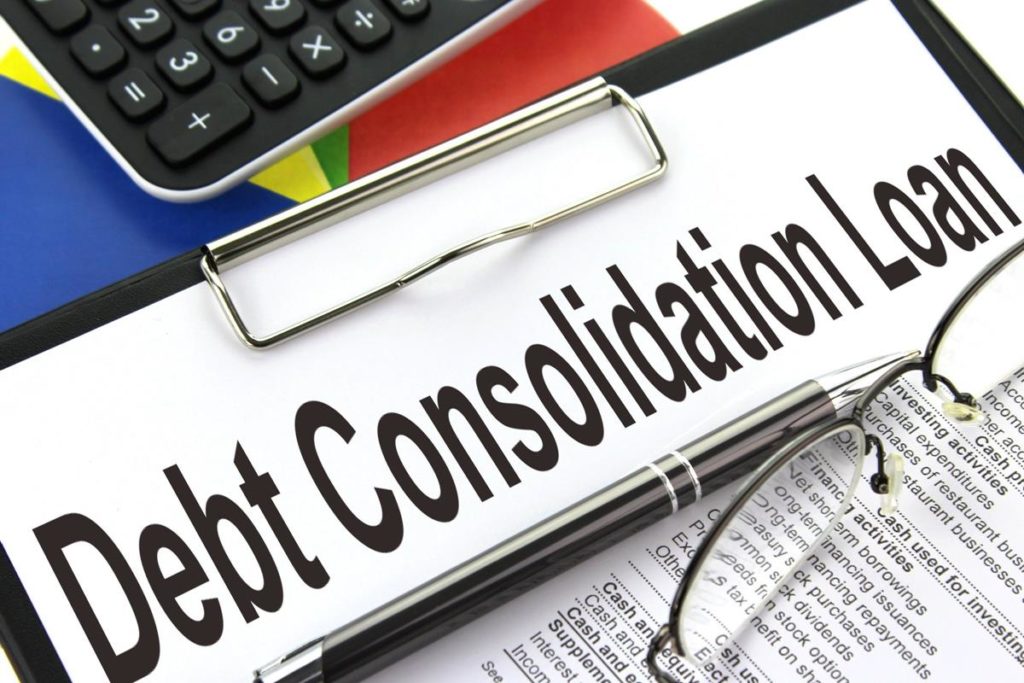 Taking a bank loan is indeed one of the best options for consolidating the debt, provided that you can qualify for the same. You can get the lowest interest rate on this kind of bank loans along with enough time in hand for repayment. You can also lend a huge amount of capital from banks as loans.
Interest rate – Less than 10%
Term length – Generally, around ten years
Payment Frequency – Monthly
The chances of getting approval for a consolidation loan are not much because, from the hundreds of approvals pending, the bank would always prefer the qualified borrowers.
After the traditional bank loan option, the next possible option for debt consolidation is the SBA loan. The small business administration can guarantee loans made by the direct lenders and banks. This guarantee can easily enable you to qualify, which would not have been possible otherwise for traditional bank financing. An SBA loan can maximum goes up to 5 million dollars.
Interest rate – Minimum 6.75%
Term length – Generally, 7 to 25 years
Payment Frequency – Monthly
Just like the normal bank loans, this kind of loan also comes with a lower rate of interest and longer repayment terms. This kind of loan is undoubtedly known for being the most premium option available; it is possible to qualify for it only when you have strong business finances and credit.
Term loans are offered by several online lenders that work well for business debt consolidation. One can get around 3,50,000 dollars for consolidating business debts.
Interest rate – Around 7.9% to 28.9%
Term length -Generally, 1 to 4 years
Payment frequency – 15 days frequency
In comparison to SBA and bank loans, they are most significantly affordable. It is also quite easy to qualify for this kind of loan. The repayment term is also quiet longer, and borrowers can have enough time in hand to pay back without hassle.
When you apply for business consolidation loans, make sure that you follow the below steps for optimizing the debt consolidation:
You need to identify the present business debts properly
Find out if any of your loans are pending with prepayment penalties
Analyze the entire business debt that you need to consolidate
The annual percentage rate needs to be considered for each of the existing loans to calculate an average amount.
Look ahead for a fresh business consolidation loan.
Compare the average percentage rate of the old loans with the new consolidation loan you are planning to take
You need to take an informed decision regarding whether you should go for the new loan.
Sign the new consolidation agreement after proper scrutinization and judiciously use the capital amount to repay the existing debts
Make timely and easy payments of the new consolidated debt.
If you properly follow the steps mentioned above, you will definitely end up taking an informed and educated decision regarding whether your business will actually benefit from the new consolidation loan. You can get in touch with the experts at National debt relief programs to know more.
To know more about business debt consolidation loans in details, you can stay tuned to us and subscribe to our channel for the latest updates.