Marvels Avengers Infinity War is here. The Infinity War Trailer 2 is out !
Marvels Avengers Infinity War, the long-awaited marvel's mega movie is coming out. And we finally have a new trailer for its release.
The Avengers Infinity War release date is 27 April 2018 in the United States.
Long time awaited fans of the Marvel universe have waited decades for the release of this movie. And now that it is happening people are filled with joy and anxiousness for its release.
Just take a look at Avengers Infinity War poster.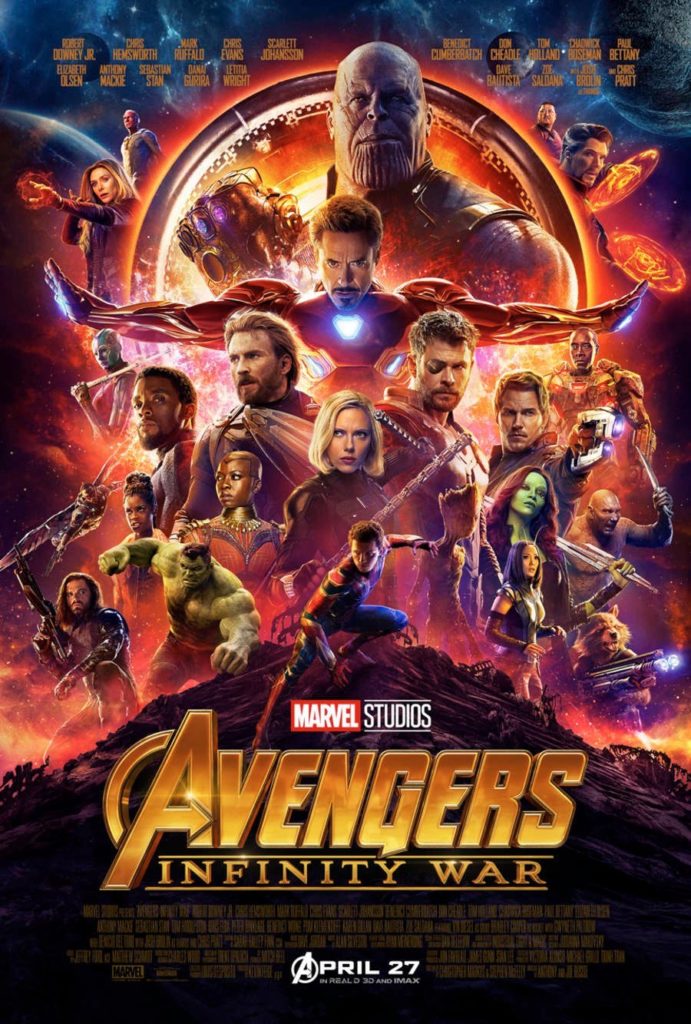 Marvels Avengers Infinity War
The hype is real for Marvels infinity war and the advance booking for tickets has already started.
Don't miss your chance to grab a ticket right now, if you want to experience it first hand before anyone else.
Marvel also just released the Avengers Infinity War Trailer 2 which is super amazing and Thanos is looking like a proper supervillain. The power of Thanos can easily be seen in this trailer which is good (Except the part where Captain America holds Thanos punch). Thanos is just way too much powerful to be handled by any one Avenger , isn't that the whole point of the movie?
Apart from this particular part of the Infinity War Trailer, the rest of the trailer looks super dope. And the movie itself will also be (hopefully). This trailer actually gives us a glimpse of what fighting in infinity war will be like. As we can see Thanos holding Thor's head and then again trying to hold captain America. Maybe Thanos has a holding disorder in this movie (or not). Anyways the fights will be amazing and as you can see there is also some dark magician who fights with Doctor Strange. Have anyone seen or knows the name of this character?
The older Trailer was also cool. and it gave us a glimpse of what is possible in such a large movie packed with superheroes. And it also gave us an idea of how the whole marvel universe looks like when collided into a single movie. In both the trailers we can see that the Black panther's army plays a major role in this movie. Hulk, on the other hand, felt a bit left out in the last trailer, no screen time for such a large guy in a trailer… 'hulk Sad'.
We can only hope what the movie will be like. But what we can say by a look at both these trailers is that every single character in the Marvel universe, be it Spiderman, Iron Man, Thor, Vision, Hulk or any other character will have a proper role and a task in this movie. As Thanos is a supervillain who can destroy worlds in a snap of his fingers. So, the Avengers led by Captain America will devise a plan in several parts to bring this bad guy down.
Although we would love to see Star Lord guide all of the Avengers in the battle. That would be amazing but as Long as Captain America is alive we surely know who's the captain when it comes to Avengers.
This Marvels Avengers Infinity War movie will set a new path for all the Marvel movies. As for some time now every single Marvel character is somehow associated with this movie 'infinity war'. All of their stories overlap at this singular point in the Marvel universe. After the release, we can maybe predict more mega project from Marvel like Marvels Avengers Infinity War, maybe even a sequel. Only time will tell about this, right now every marvel fan has fingers crossed and hopes to see some really intense marvel action.
Infinity War Merch
Be an ultimate fan, show up for the first-ever screening of your favorite movie with its merch.
Or grab something for your personal collection from the items below.