Samsung Galaxy S9 – Specifications, Colors, and Design!
Samsung
Galaxy S9 has been released on March 11th, 2018, and gladly, this smartphone has already taken the public with a storm of craziness with its brilliant feature, specs, and design!
Our expectations with S9 prior its release,
Although the real design of the device will be seen after s9 launch. But already there are assumptions which might be actually more than 90% correct. Since these are not just depictions of what S9 will be like but also there is hard information and resources proving this design.
First of all, before releasing any kind of phone in the market. The phone manufacturers have to make sure that the correct accessories will be available to the customers. This includes pouches and cases too. As you can see in the below images these S9 cases have to be made the body fit and inch perfect. Samsung has already provided information to the case manufactures about the dimensions and overall look of the S9 itself.
By the looks of it, we can say that S9 is nothing but pure beauty. It has the edge to edge infinity display which is a trend in 2018 smartphones. Two cameras on the back which are like iPhone X in a vertical position but they are centered (where they actually should be). The front of the phone is more like a mixture of Google Pixel 2 and S8. We can see a little bit curved bezels but overall a decent looking phone.
Well, The final version of Samsung Galaxy S9 is just days away and we will surely keep you updated about it.
But from initial looks at Galaxy S9 design and S9 specifications, we can say that it is going to be a beast of a phone. And also at the same time a simple, yet elegant looking glossy device. (That might even get some people to forget about the iPhone X)
And since Samsung Galaxy s9 has been released, here is everything you need to know about its design, specs, colors, and more…
So, finally, Samsung has made a tremendous addition to its family of Galaxy phones with S9 and S9+. And luckily, S9 has not just met our expectations rather has surprised us prominently with its fabulous design and outstanding specs. The public is felling head over heels for this smartphone. And you will too once you have read about its flamboyant design and exuberant features. Read along!
Samsung Galaxy S9 Design
S9 has tried to take everything that is good about the Galaxy S8, iPhone X, and Pixel 2, and merge all of them together. Which is not bad, not bad at all. Since People are really caught up in the iPhone X and Pixel 2 war. Its a good step taken by Samsung to take some of the design key features of both and transcend them to something amazingly new.
See more. Hold less.
This is how Samsung has defined S9. The easy to hold smartphones is literally working as a glitter to eyes. It's bezel-less (one of the best bezel-less phones to date) with full frontal glass and edge to edge screen. The body of S9, the curved edges and display, the body to screen ratio, everything looks just spot on! S9 is not only a good looking phone but a powerful one too. Its sleek-stunning design will surely drop your jaw with astonishment and amazement.
Samsung Galaxy S9 Specs
Below are some of the Specifications of Galaxy s9.
Colors
Samsung Galaxy S9 and S9+ are available in Lilac Purple, Titanium Gray, Midnight Black, and Coral Blue. However, the availability of color may vary with the country and the carrier.
Weight and Dimension
Galaxy S9
Weight: 163 g and Dimensions: 147.7 x 68.7 x 8.5 mm
Galaxy S9+
Weight: 189 g and Dimensions: 158.1 x 73.8 x 8.5 mm
Display
The full HD+ resolution that you can change to quad HD+, full frontal glass, edge-to-edge screen, bezel-less, it all makes the phone super stunning to hold and show-off.
Galaxy S9
5.8″ Quad HD+ Super AMOLED (2960×1440), 570 ppi
Galaxy S9+
6.2″ Quad HD+ Super AMOLED (2960×1440), 529 ppi
Camera
Camera for both S9 and S9+ makes these phones stand among the best camera phones to buy in 2018.
Front Camera: 8MP with Sensor size: 1/3.6″, Pixel size: 1.22µm, and Sensor ratio: 4:3.
Rear Camera: 12MP
Galaxy S9
OIS
Zoom up to 8x (Digital)
Selective focus
Galaxy S9+
Dual camera
Dual OIS
Zoom up to 10x (Digital) and 2x (Optical)
Live focus
Dual capture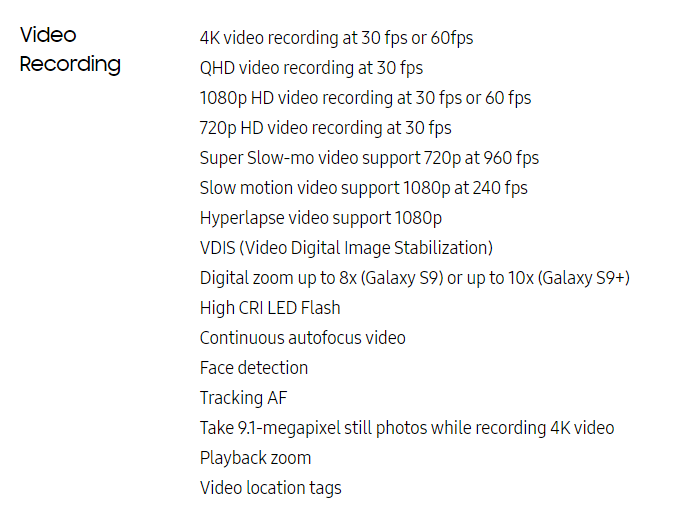 Performance
AP
10nm 64-bit Octa-Core Processor *2.8GHz + 1.7GHz (Maximum Clock Speed, Performance Core + Efficiency Core)
10nm 64-bit Octa-Core Processor *2.7GHz + 1.7GHz (Maximum Clock Speed, Performance Core + Efficiency Core)
Memory
Galaxy S9: 4 GB RAM, 64 GB with expandable memory up to 400 GB
Galaxy S9+: 6 GB RAM, 64 GB with expandable memory up to 400 GB
OS: Android 8.0 (Oreo)
Water Resistance: IP68
Battery
Galaxy S9: 3000mAh
Galaxy S9+3500mAh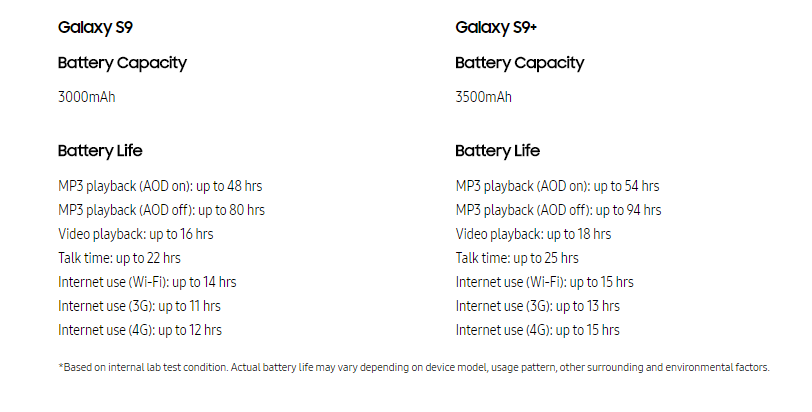 Charging: Fast charging (wired and wireless)
Security

All these specifications are enough to say that Samsung has blown the mind of its competitor quite in an awesome way. As of 2018, we are seeing phones with better and better Processors and memory and with best cameras. It's almost a never-ending race going on, So, keeping this in mind, we are glad to say that the above-mentioned beefy specs on Galaxy S9 and S9+ will surely make them the best Samsung phones or maybe even the best smartphones to buy in 2018.
In reality, this has to be Samsung's comeback moment. With the release of Galaxy S9 and S9+, we can say that Samsung is finally going to redeem some of its lost glory.
Buy Samsung Galaxy S9 and S9+ Now!
The good news is that these smartphones with a bundle of awesomeness are available to buy on Amazon. So, we would suggest you grab one for you without wasting a second and show off your even smarter smartphone with style and prestige!
Galaxy S9
You can buy Samsung Galaxy S9 in Midnight Black
, Lilac Purple
, and Coral Blue
, just by following the links.
Galaxy S9+
You can buy Samsung Galaxy S9+ in Lilac Purple
, Coral Blue
, and Midnight Black
, right now by following the links from Amazon.
Do not forget to give us your feedback on the phone and how you like it. We will be more than delighted to hear back from you all about your experience with the phone. And here we are bidding you goodbye till our next post as we have to run to grab one for us as well! Happy S9-ing y'all..