Ocean's 8 release is upon us -But can it live up to expectations?
Ocean's 8 release date as mentioned everywhere on the internet and Ocean's 8 trailers, is 7th June 2018.
Oceans' movies are pure classics that on average anyone of any age can fall in love with. We at Trendmut are somewhat of fans ourselves. The Oceans' movies give you a pure drama, crime and romance story all rolled up in one movie.
Ocean's 8 release and a little backstory
Mostly the movie is about a robbery. These Oceans' movies are actually famous for the style of crime that they show which is very upper class and quite neat frankly. If you have already seen any one of this movie (Ocean's Eleven, Ocean's Twelve, or Ocean's Thirteen) than you already know about this. Apart from some seriously genius robbery, these movies also give you a look at the collaboration of some of the very famous actors in the industry.
Some of the famous actors in the Ocean's Eleven cast were; George Clooney, Brad Pitt, Matt Damon, Julia Roberts and Andy Garcia. Although in Ocean's Thirteen cast there was Al Pacino too along with Andy Garcia as a rival casino owner.
Ocean's 8 Cast
So, the Ocean's 8 cast much like the previous movies cast is also very vast and unique with a very small catch.
They are all women.
Yep, all the main characters this time are female. This is a very bold move made by the producers and makers of Ocean's eight as we have already seen a very good movie franchise ("Ghost Busters") go down the drain because of some similar action. But in all honesty Ocean's 8 is way more different than Ghost Busters 2018, and looks like this one is actually going to be a hit.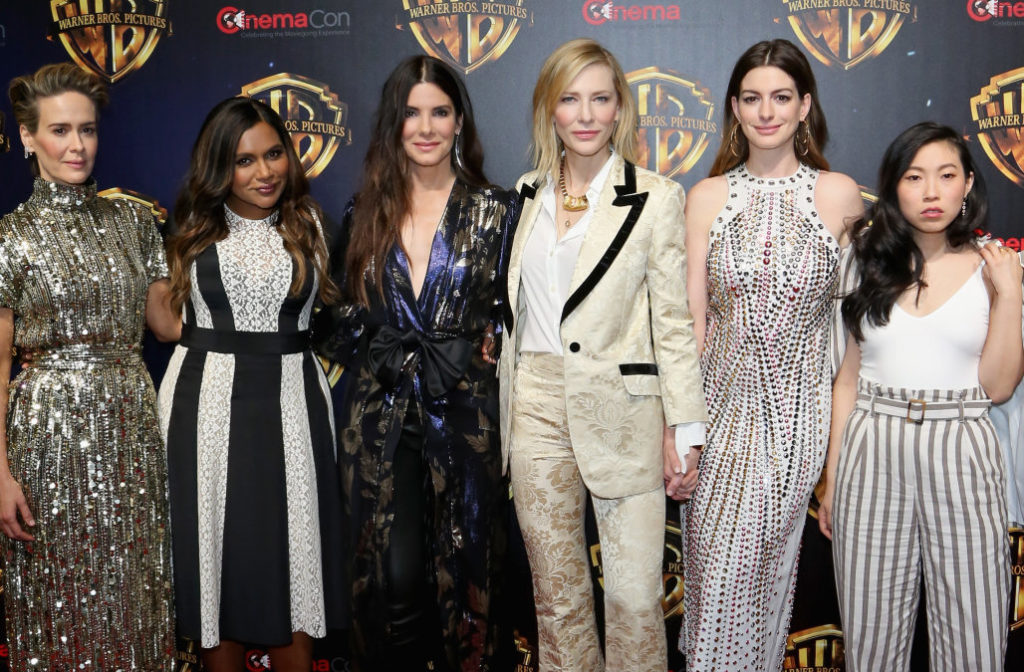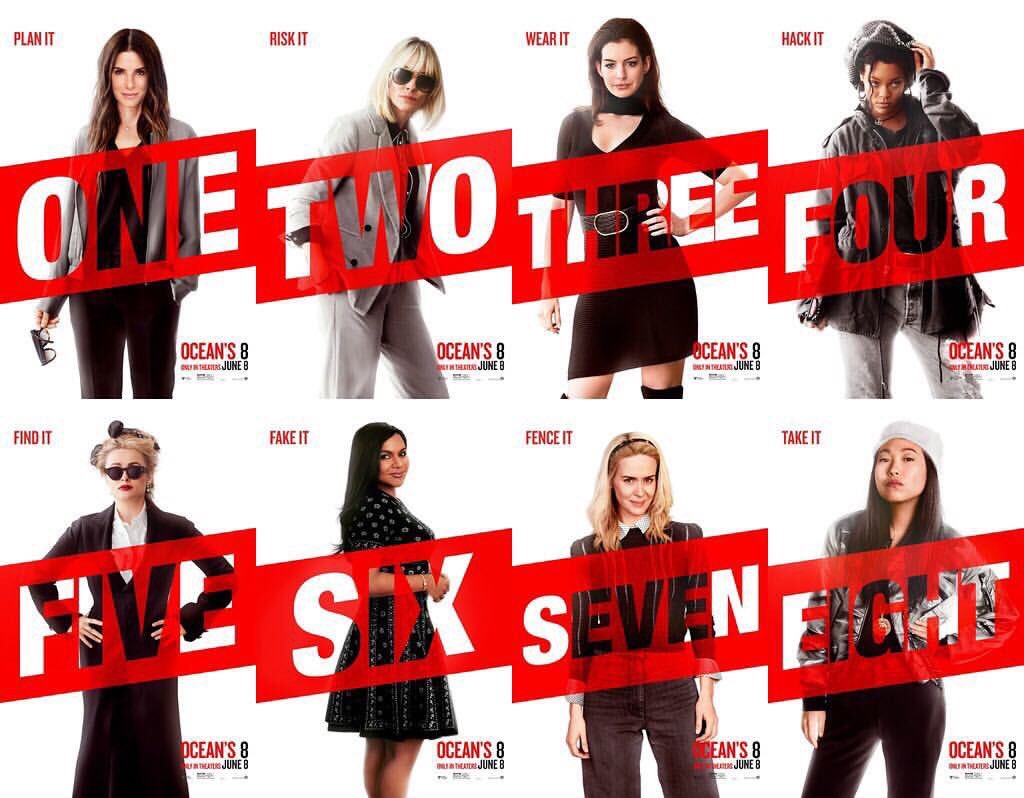 The Ocean's Eight cast include ;
Rihanna, Sandra Bullock, Cate Blanchett, Anne Hathaway, Helena Bonham Carter, Sarah Paulson, Awkwafina, and Mindy Kaling.
As the Oceans movies focus more on the story itself. By the initial looks of the movie, anyone who might not be gender neutral when it comes to their favorite movie's cast will also admire the movie. As the women look really tuned in with the story of this movie.
Ocean's 8 trailer
Here are the initial looks of the movie itself.
If you plan on going to watch Ocean's 8 or are coming back watching it, Here are some scenes from the Ocean's 8 movie in its official trailer.
These trailers make us forget about the previous Ocean's movies for a while.
Which means that the hype for the new Ocean's 8 release is real.
Ocean's 8 On BoxOffice
With the gender swapping, raises many questions regarding whether or not the movie will do a promising business on the B.O. But then we witnessed a pretty great, $4Million business on Thursday, and came to realize that the movie is surely going to be huge. Also, considering that Ocean's 8 is a satire and not some fanatically foreseen science fiction establishment dream staggering, a $4m review is really damn great. But now the question is, will the movie wind up with an astounding $50Million+ Fri-Sun outline? Perhaps, perhaps not. The key will be to what degree it pulls in the easygoing moviegoers and general groups of onlookers. The audience who simply choose to take in a motion picture throughout the end of the week. But with the business Ocean's 8 has done on its opening day, we are pretty certain, it will reach beyond our assumptions. Fingers crossed, it will live up to the expectations.
Ocean's 8 Review
The "Ocean" in the "Ocean's 8" title is Sandra Bullock, Debbie, sister of Dannie from "Ocean's 11." Just got out from jail, she starts procuring extravagance things and begins to quickly amass a group to pull off the gigantic jewel caper. Her expectation is to yield millions for every lady – that she's put over for many years determinedly planning.
Cate Blanchett fills in as Debbie's former ally and reasonable right hand. She's not particularly excited when she finds there's an unassuming vengeance piece prepared into the plan. From that point onward, the match obediently selects the different masters they'll require. The team finally constitutes:
A hacker (Rihanna)
A Jewel expert (Mindy Kaling)
A Fashion Designer (Helena Bonham Carter)
A Pickpocket (Awkwafina),
A Fence (Sarah Paulson)
An Artist (Anne Hathaway)
And obviously them two; Sandra and Cate.
Similarly, as with "Ocean's 11" – the first rodent pack manifestation and the spin-off bringing forth 2001 redo – everybody is having a quite fun time, which gives a perky, fresh quality to the moderately thin material.
To be sure, Sandra is the main character with even a trace of a backstory, and keeping in mind that the callbacks to the idea's sire are moderately minor, they include only a sufficient association with giving some additional kick.
Obviously, "Ocean's 8" takes after the all-female "Ghostbusters" reboot, and without any doubt has profited by the close raging response to that activity. As a reward, this establishment doesn't come saddled with a fanboy chance contributed enough to name this a profane plague on their youth.
While the film unmistakably won't acquire numerous focuses for inventiveness, the pleasant parts of this most recent wrinkle on the heist motion picture eventually figure out how to leave away with a quite strong score.
Some Ocean's Merchandise
Trendmut is a very small company and we try to provide you with all the latest news in every aspect of life like entertainment, sports, news, etc.
We stay alive through affiliation, meaning whatever you buy from our site we get a very small percentage of that. This helps us keep alive and makes it possible for us to keep providing you some quality content daily.
So, here are some products related to Ocean's movies that you can buy.
---