Cheapest countries to visit – best cheap countries to travel in 2018
What are the cheapest countries to visit in 2018?
If you like to travel and are among one of those travelers who is always looking for cheap places to travel. And you spend hours online on the travel channel, travel sites or with travel agency just to find that perfect budget travel.
Then, look no more.
We, at TrendMut, have combined a list of Cheapest countries to visit for you. So, if you are a college student who just wants to backpack and had been thinking about backing for a long time but don't really know any cheap places. Then don't worry, we got you covered.
Read along and find the best place to travel for you.
Disclaimer: Prices of plane tickets not included, as they may vary depending on where you are traveling from.
Here are the Cheapest countries to visit
1) Thailand
Daily expense (including food, room and transportation) = 25$ – 30$
You can find Thailand on almost every list for budget travel out there, that is why Thailand is on top in our list of Cheapest countries to visit. Tourists have been coming to Thailand for decades. And in recent years it has become a heaven for backpacking in Southeast Asia, as it is very affordable and the landscapes here are beautiful. You can enjoy a whole day here at about 25$-30$ expense. As the guesthouses are cheap, street stalls have good food and local buses and attractions cost less too.

Thailand has nearly 2,000 miles of beaches.
A beach hut can cost around $5 per night. And you can rent a small car or motorbike for about 5$- 10$. The Gulf of Thailand has exquisite landscapes and sunsets, that makes the tourists want to come again. You can also take diving courses in Thailand and get a certificate for around for 100$-150$.
2) Cambodia
Daily expense (including food, room and transportation) = 50$
Speaking of South East Asia, Cambodia is also quite affordable and beautiful. For $20 you can get an air-conditioned room, street food can cost around 2$-5$ and transportation can be about 15$-20$. For roughly 50$ a day, you can have quite a fun time in Cambodia. Cambodia is becoming a popular travel destination in Southeast Asia, especially among backpackers as you can get decent luxury here at a very little price.
3) Vietnam

Daily expense (including food, room and transportation) = 15$ – 20$
Vietnam is a very affordable travel destination with beautiful landscapes and mountains. For 15$-20$ a day you can get a guest house, good local food, a transport and some drinks. The Hoan Kiem Lake here is a beautiful and relaxing tourist point which you should definitely check out. Apart from that, there are a few good resorts like the resort of Da Lat in the central highlands. Tourism in Vietnam has sparked in the recent years, because of the budget factor and the unforgettable experiences.
4) India

Daily expense (including food, room and transportation) = 30$ – 50$
Even if you get a luxury hotel room and eat only Western meals in India, you will still spend about 50$ per day in India. Generally at about 30$ a day you can get a cheap guest house, transportation (taxi/train) and good tasting Indian street food. Most of the college students have India already on their bucket list and many of the most successful people have been here in their early life including Steve Jobs. Although some cities are jam-packed on weekends so you should avoid commute during the weekends in major cities. Other than that you can have a pretty good trip to India, there is so much to explore and so many cultural heritages. Apart from that, the nightlife in the cities like Mumbai and Delhi are also amazing to hang out at. Of course, there is Goa if you want a little Caribbean touch in India. When you think about Cheapest countries to visit, India always comes to mind.
5) Nepal

Daily expense (including food, room and transportation) = 20$ – 30$

A typical room in a guesthouse in Nepal can cost you around 5 – 10$, inexpensive meal around 2$ and a beer half a liter for only 2$.
Nepal's tourism focuses on trekking as this is what most backpackers come here to do. For around $20 per day you can live and explore Nepal and by extending your budget to $30 you can get a luxury trip and stay in good hotels, dine out at decent restaurants.
For organized trekking experience, this budget won't cover. The costs are high for guided trips and to reach the highest points in the Himalayas. This also takes days and is quite expensive. If your main perk is not trekking and you only want to view nature's beauty. Then Nepal is a pretty decent and relaxing place to be. Nepal surely is one of the Cheapest countries to visit and have a relaxing time.
Treat
If you have skydiving on your bucket list then Nepal will sure make your wish true as it is one of the best places to skydive as well.
6) Sri Lanka
Daily expense (including food, room and transportation) = 30$ – 60$
Sri Lanka has some of the most amazing mountains, gorgeous waterfalls, and mood enlightening palm trees. Fish is a major food in Sri Lanka and when you travel be prepared for a lot of fish. In general, you can get all the life's necessities in under 30$ per day in Sri Lanka including decent room, good meal, and transport. But if You are looking to live a little lavishly on your tour here then just double this expense. At 60$ a day you can get the most amazing experience. Including a room with private jacuzzi, swimming pool and dining at a good hotel.
7) Albania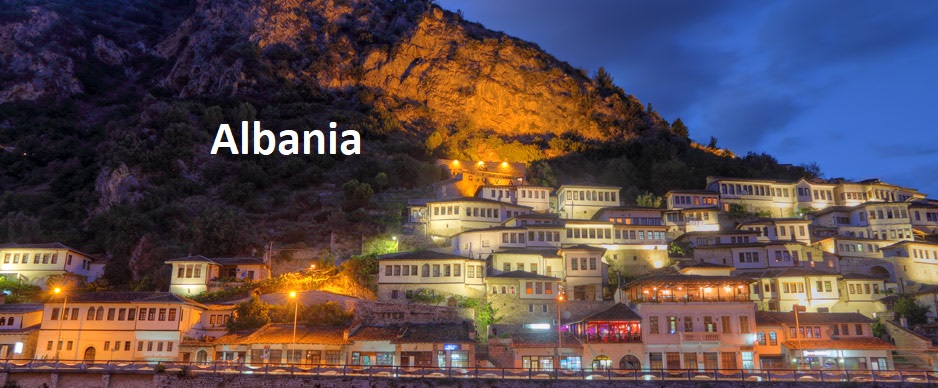 Daily expense (including food, room and transportation) = 30$ – 50$
You can get a room with a view of the beach for around 10$-15$ per day and a beer for less than a dollar. Standard local meal and transport for under 15$ a day. In 30$ you live decently, and for 50$ a day you can really enjoy yourself. Fun activities like jet-skiing or parasailing can cost as little as 40$. Most public attraction sites in Albania that are either free to enter or cost under 5$.
8) Peru

Daily expense (including food, room and transportation) = 40$
Rooms cost per day vary range from 20$ to 100$, depending on what kind of living you choose. Most street meals cost less than 10$ and add another 10$ for transport you have 40$ a day budget to explore Peru. You can get fried rice for only 3$, even you try to stuff up your self with steaks and drinks you will still spend about 15$ a day on food in Peru. Peru has an amazing culture to explore and a lot of American and European restaurants to feel at home.
9) Turkey

Daily expense (including food, room and transportation) = 30$ – 40$
There is a lot to do in Turkey while traveling. You can chill and relax on Turkey's western coast, which has crystal clear water and there is also the delicious Turkish food. Istanbul has the major attractions and is probably the best city to live in. You can get hostel bed for 10$-20$, a decent meal around 8$ and a beer for 2$. There are 9th-century luxury homes to view on the streets. and you can also cruise along the Princes' Islands cost of which is only 1$ on public ferries. People find it hard to believe that turkey could be among the Cheapest countries to visit. Believe us or not, a trip to Turkey will be a treat.
10) Portugal

Daily expense (including food, room and transportation) = 50$ – 70$
Compared to rest of western Europe Portugal is actually quite affordable to travel to. Amazing landscapes be enjoyed on a low a budget in Portugal. Portugal has some beautiful beaches and stunning cliffs. There is delicious food which you can get a plate of along with a glass of wine around €5.
Portugal is one of the poorest countries in Western Europe Hence, quite affordable. It's very much cheaper than Spain which is its neighbor. In 50$ to 70$ one can enjoy Portugal at some expenses. The dorm rooms can cost around 10-15$ and Cheap room around 25$ to 30$ per day. A street meal can cost about 10$ and half a liter beer can cost around 3-4$.
Lisbon is where most travelers visit because it has most tourist attractions.
Conclusion
BackPacking is what most students do on their summer break to get a little freedom in their tiring life. But even if you are not a student doesn't mean you cant think like one. Take above places in consideration if you are on a tight traveling budget as these are some of the Cheapest countries to visit. Don't think too much on life's little quarrels, just head out and have a new experience.
You will surely have a blast if you step into the unknown.