The Ultimate Guide To Buy Smartphone In 2019 – Top Ten Smartphones
Smartphones are evolving every month now. In previous years, a major change among smartphones wasn't seen for a year. But now new revolutionary things can be seen with each new release. Things we might've never thought years ago we might need in a phone. But regardless, they are here and we need to adjust. We are talking about no bezels on the sides of the screen. Now every phone that releases is continuing this trend but some phones have taken to the extreme as well. Phones like Oppo Find X where the screen to body ratio on the phone is 93.3%. That's incredible when you think about it, how immersed you will feel with no black bars around the phone. But the most incredible thing about a revolutionary phone like that is how they manage to pull that screen ratio.
Read here about the best bezel-less phones to buy.
Revolutions made among smartphones in recent years
Oppo made that unbelievable screen ratio possible by removing the top of the phone which hold the front camera and couple sensors. They motorized that part and made it come out whenever they were in need. Otherwise, you could stay immersed in that phone with just screen. And then there is Apple who has removed the headph0ne jack and that is yet to be known exactly why Anyway those iPhone also has an incredible display with a ratio of more than 80%.
This incredible screen to body ratio created a notch for other phones than the Oppo Find X. The new iPhones have this huge notch on the screen, you can try to forget about it but its there. If the video or game you are about to play does not support 18:9 displays then that experience will be really bad. Another phone with a hideous notch this year would be The Pixel 3, more about that phone below as it is a top recommendation. Pixel 3 got meme'd really bad when it came out people were calling the Notch 3xl and whatnot like there's big screen with that notch. And the biggest disappointment with this phone would be the removing of the headphone jack.
The headphone jack
But that removing the headphone jack by Apple has encouraged other manufacturers to do the same. This wasn't expected if Apple if we be honest, Apple has been a trendsetter which is not the case anymore. And now we won't be seeing headphone jacks in any flagships other than Samsung and LG. Even the Chinese manufacturers we depended on like OnePlus have decided to give in to this stupid trend. Headphone jacks have been in phones for as how long as I can remember. The flip phone I owned in 2006 had that now dreaded headphone jack. Well, regardless we can understand why this is happening its because they are trying to make the world wireless. In my opinion, I don't think the world's ready. Because wireless accessories can't even compare to wired ones like headphones. We can't get the same sound quality in wireless headphones as we could get in wired ones. Another thing is wireless charging it doesn't matter how revolutionary it is it still charges slower than a normal charge, that's not even comparing to fast charging.
The Trend is set for 2019
Rumors were already coming out for the Foldable Samsung phone even before their major releases for 2018. So its clear Samsung has been hard at work creating the Samsung Galaxy F they just announced. So it's clear the age of folding smartphones is getting closer. Patents for foldable smartphones are being filed in increasing number than ever before.
Then there is phone like Nubia X that has a dual screen. A screen on the back ( the techie in me is screaming), like how crazy is that. When you turn the phone around it will know which screen you are looking at and will activate that. But this phones comes at a cost and that is no selfie camera. It isn't a problem with that phone though because you can use the rear screen and camera to take a selfie.
So onto our recommendations for phones to buy in 2019. Heads Up, these phones won't be cheap in no way. If you are in a budget you can go look at our 2018's list those phones are cheap and pack a punch.
Top ten smartphones to buy in 2019
iPhone Xs Max and Xs
On top of our list would be the iPhone Xs and Xs max. To put it short, these phones are powerful. Like no joke these phones are so powerful that any Android competition doesn't even come close. That A12 bionic chip is beast. Pair that CPU with super AMOLED displays and you have the best phones out. These phones are the phones to get for the couple months of 2019 until the next flagship is released.
Find here the best iPhone cases and accessories.
Features
Same. But different. And yet the same. The iPhone XS and XS max are here, like it or not. And they are the best iPhones ever made if anyone had doubts that Apple will make worse devices this year. They are the fastest, the prettiest, the sturdiest, the most luxurious, the most skilled, the most expensive. And yet, they are the same iPhone. But you can buy them in golden color now, so people could know it's different.
Screen: 5.8″ or 6.5″ bezel-less Super AMOLED screen of 1125 x 2436px resolution and 1242 x 2688 pixels, 458ppi. HDR video support, wide color gamut. True Tone adjustment via a six-channel ambient light sensor, 3D Touch.
OS: Apple iOS 12
Chipset: Apple A12 Bionic chip (7nm) – Hexa-core 2.49GHz (2x Vortex + 4x Tempest) Apple CPU, four-core Apple GPU, 4-core Apple NPU 2-gen
Memory: 4GB of RAM; 64/256/512GB of internal storage (non-expandable)
Camera: Dual 12MP camera: wide-angle F/1.8 with OIS + telephoto F/2.4 with OIS, live bokeh effects (including Portrait mode and Portrait Lightning, adjustable blur), 2x lossless zoom, quad-LED flash with slow sync, phase detection autofocus, wide color gamut capture

Battery:

2,658 or 3174 mAh battery, wireless charging (Qi compatible)
OnePlus 6T
Yeah, we thought we would see a flagship android phone after the mention of an iPhone, but with the disappointingly huge notch and removing of the headphone jack. There was no need to prefer pixel 3 or pixel 3xl over the OnePlus 6T, And those absolute beautiful colors you can buy it in.
Features
The 6T does it all that we expected the pixel 3 to do. It has a nice near stock experience with some additional tools. They both have the same processor, no headphone jacks on both but the 6T wins in price and implementation of the notch. The 6T is an absolute beast and comes at a cheap price, you can buy 2 of these in the price of 1 of those phones on the top of the list. And the screen is AMOLED with deep blacks.
OS: Android 9.0 (Pie)
Screen: Optic AMOLED 6.41 inches 1080 x 2340 pixels, 19.5:9 ratio, 402 pixel density
Chipset: Snapdragon 845 Octa-core (4×2.8 GHz Kryo 385 Gold & 4×1.7 GHz Kryo 385 Silver)
Memory: 256 GB, 8 GB RAM, 128 GB, 6/8 GB RAM
Camera: 16 MP, f/1.7, 25mm (wide), 1/2.6″, 1.22µm, OIS, PDAF
20 MP (16 MP effective), f/1.7, 25mm (wide), 1/2.8″, 1.0µm, PDAF
Battery: Non-removable Li-Po 3700 mAh battery
Pixel 3 and 3xl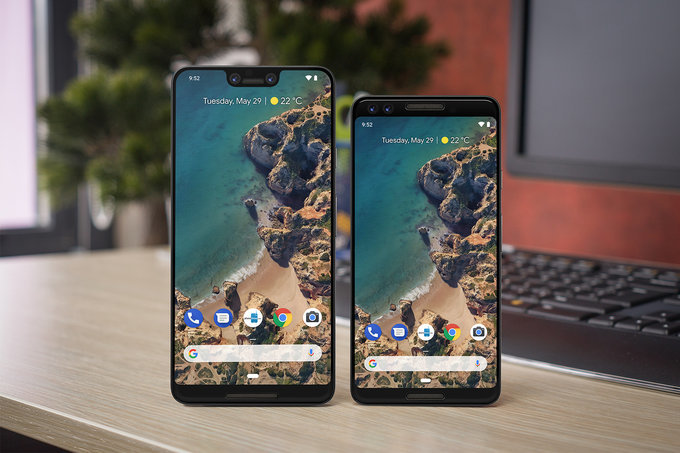 This phone was released last month, and it was a huge disappointment. Don't get me wrong its not a bad phone by any means, But the huge notch and removing the headphone jack was disappointing. Even when last year Google made fun of Apple for removing the headphone jack now they went and did the same.
Features
The phone is still one of the best android phones you can buy right now. With an absolutely gorgeous 2k P-OLED display and Snapdragon 845. And the guarantee to receive the Android updates as fast as possible. And can't forget the best camera on any phone right now, a camera that can rival actual DSLR's. This is the phone to buy if all you are interested in is a stock Android experience and don't care about the budget or other things.
OS: Android 9.0 (Pie)
Screen: P-OLED, 6.3 inches 1440 x 2960 pixels, 18.5:9 ratio 523 pixel density
Chipset: Snapdragon 845 Octa-core (4×2.8 GHz Kryo 385 Gold & 4×1.7 GHz Kryo 385 Silver)
Memory: 64/128 GB, 4 GB RAM
Camera: 12.2 MP, f/1.8, 28mm (wide), 1/2.55″, 1.4µm, OIS, dual pixel PDAF. Dual-LED flash, Auto-HDR, panorama
LG V40 ThinQ

With the trend of more than one camera someone was inevitably gonna do it and its LG. A phone with 3 cameras, an ultra-wide, a telephoto and a normal one in between those two. And that's not all there are 2 cameras on the front.  the 'primary' one is an 8MP unit with an 80-degree field of view, and next to it there's a 5MP one with a slightly wider 90-degree FOV.
Features
This V-series phone is the biggest in diagonal standing at 6.4 inches OLED display. And everything else on this phone is like any other flagship powerful chipset and beautiful display. It still has the good old 3.5mm jack, plus it's got its audiophile-oriented 32-bit DAC behind it.
Body: Aluminum frame with Gorilla Glass 5 on front and rear; MIL-STD-810G compliant; IP68 water-resistance.
Screen: 6.4″ QHD+ FullVision OLED; 19.5:9 aspect ratio with notch (alternatively 'Second screen'), 537ppi; HDR 10 support.
Camera: Primary: 12MP, 1.4µm pixel size; f/1.5 aperture, 78-degree FOV lens, 25mm equiv. focal length, OIS, dual pixel PDAF; Ultra wide-angle: 16MP; f/1.9 aperture, 107-degree FOV lens, 16mm equiv. focal length, fixed focus. Telephoto: 12MP; f/2.4 aperture, 47-degree FOV, 50mm equiv. focal length, 2x zoom, PDAF.
Chipset: Qualcomm Snapdragon 845: octa-core CPU (4×2.8 GHz Kryo 385 Gold & 4×1.7 GHz Kryo 385 Silver), Adreno 630 GPU.
Memory: 6GB of RAM; 64GB storage; microSD slot.
OS: Android 8.1 Oreo with LG UX, Android P update expected.
Battery: 3,300mAh Lithium Polymer (sealed); Quick Charge 3.0 fast charging; WPC&PMA fast wireless charging.
Nubia X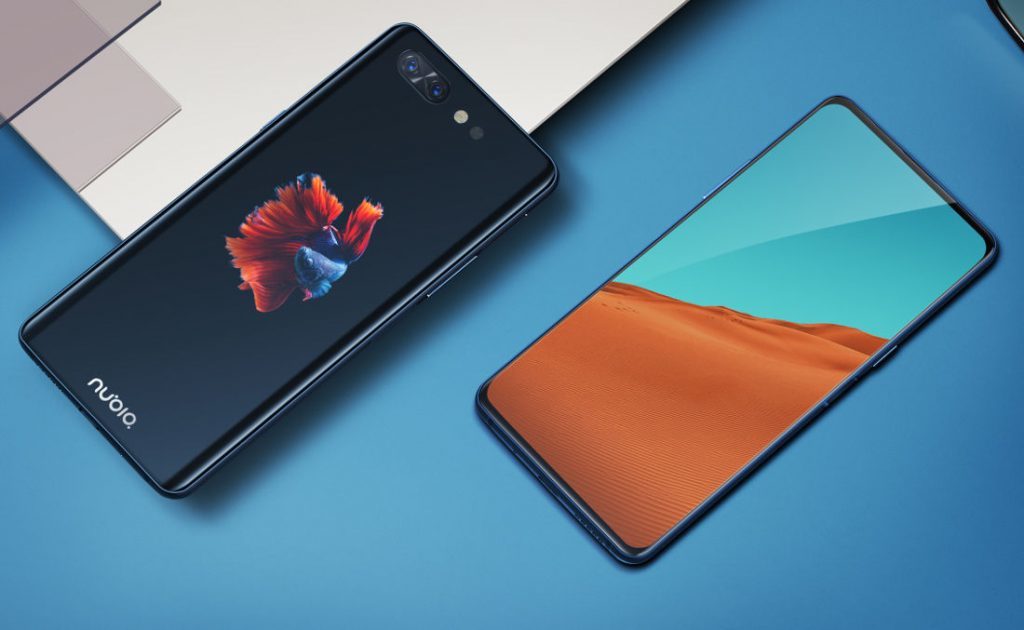 The new Nubia X features a rare 93.6% screen-to-body ratio on the primary LCD, maximizing its screen real estate while also offering a serious performance. The two screens are naturally the key selling point of the Nubia X. The primary display is a 6.26-inch IPS LCD offering a 2280×1080 resolution, a 19:9 aspect ratio, and featuring no notch (as there is no camera). The secondary display is a 5.1-inch OLED that has the same aspect ratio, but a 1520×720 resolution.
Features
OS: Android 9.0 (Pie)
Screen: 6.26 inches + 5.1 inches2280×1080 (19:9) + 1520×720 (19:9) 403 PPI + 330 PPI
Chipset: Qualcomm Snapdragon 845: octa-core CPU (4×2.8 GHz Kryo 385 Gold & 4×1.7 GHz Kryo 385 Silver), Adreno 630 GPU.
Huawei Honor Magic 2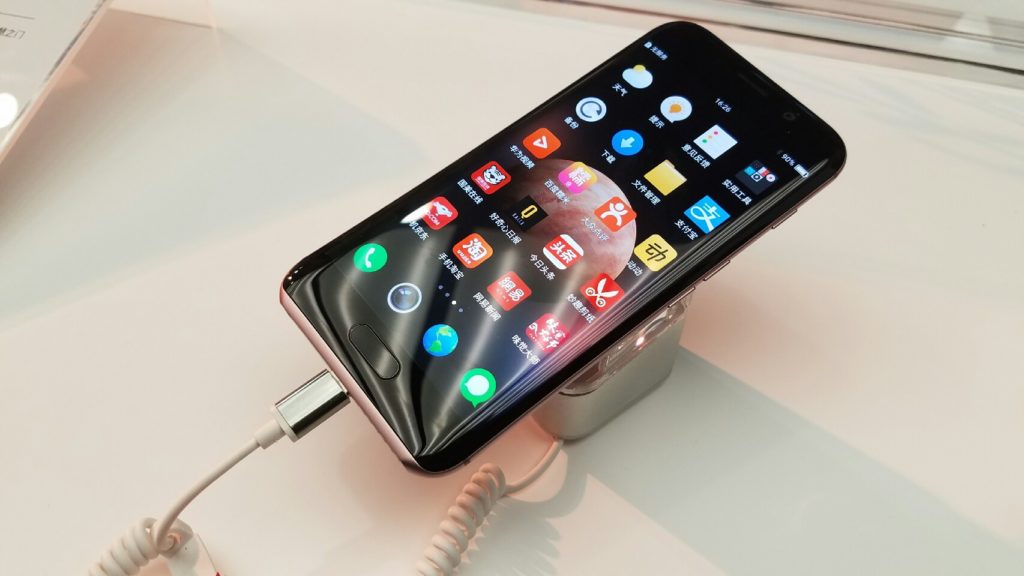 This phone will have a slide-out screen and six cameras. An all-screen beauty with a 6.39-inch AMOLED notchless display and six cameras onboard. This phone is a beauty.
Features
On the back, the Magic 2 has two 24-megapixel cameras, as well as one 17mm ultra wide-angle camera
Chipset: 2.6GHz octa-core Kirin 980 processor
Memory: 6GB or 8GB RAM; 128GB or 256GB onboard storage
Camera: Dual 24-megapixel and 17mm ultra-wide rear cameras; triple 16-megapixel front camera
Screen: 6.39-inch AMOLED display; 2,340×1,080-pixel resolution
Battery: 3,400-mAh battery; fast charging can reach 50 percent in 15 minutes
 Samsung Galaxy F
Features 
This phone will be a 5-inch phone that can fold out in a tablet. And the display will be called infinity plex. The phone could cost around 2000 USD. A lot of the details for the phone haven't been released yet but we know it will be the flagship phone. The phone is set to launch in March of next year.
Samsung Galaxy s10
The galaxy s10 is just around the corner and will be announced in February. The phone is set to have radical changes made to it as the iPhone x did. The phone is being called beyond in its development process.
Features
The phone will have an in-display fingerprint sensor. And the phones resolution density will exceed any before crossing 600ppi. It will have a near 4k display. And the first Samsung phone with 5g support.
Nokia 9
This phone is set to launch in February of next year. And will be Nokia's next flagship.
Features
There haven't been much spec leaks. But it is confirmed the phone will have 5 cameras on the back which is insane. It will be Nokia's first smartphone with Snapdragon 845.
Oppo Find X
The phone that showed us future that we could buy. Is it worth buying really depends on you? If you wanna show off your futuristic phone with a motorized front camera.
Features
Display: 6.42″ AMOLED, 1,080 x 2,340 resolution, 19.5:9 ratio, curved edges
Rear camera: Pop-up dual 16 + 20 MP, f/2.0, OIS, PDAF, 4K video, dual-LED flash
Front camera: Pop-up 25 MP, f/2.0, 1080p video
Software: Color OS 5.1 (based on Android 8.1); Google Assistant
Chipset: 10 nm Snapdragon 845, quad 2.8 GHz Kryo 385 Gold + quad 1.7 GHz Kryo 385 Silver, Adreno 630
Memory: 8 GB of RAM, 128/256 GB storage; no microSD slot
Battery: 3,730 mAh, 20W VOOC (or 50W Super VOOC) fast charging
LG's folding phones
LG just filed a patent for the foldable phone. We can expect an LG folding phone in the near future. It will have LG's amazing P-OLED displays it is yet to be seen what other specs its gonna contain but we can sure expect this phone to release near the Samsung Galaxy F.
Lastly, if you are looking to buy 2018's best smartphone then here is the best smartphones to buy in 2018 list for you!