Agra Travel Guide – Facts, Attraction, And Information
Located in Uttar Pradesh, this beauty is the pinnacle of Mughal beauty. In the past, Agra was in its glory period, during which each emperor built several tombs and monuments in and around Agra. Agra was a place of interest for the kings of yesteryear and today, it has taken turn to attract tourists to its side. Being the home to the World Wonder, Taj Mahal is not the only reason for Agra getting millions of tourists every year.
Important facts
Airport – Kheria airport
Best time to visit – From November to end of March
Distance from Delhi – 200 km
7 Top reasons to travel Agra
Here are the top 7 places to visit in Agra that you shouldn't miss on.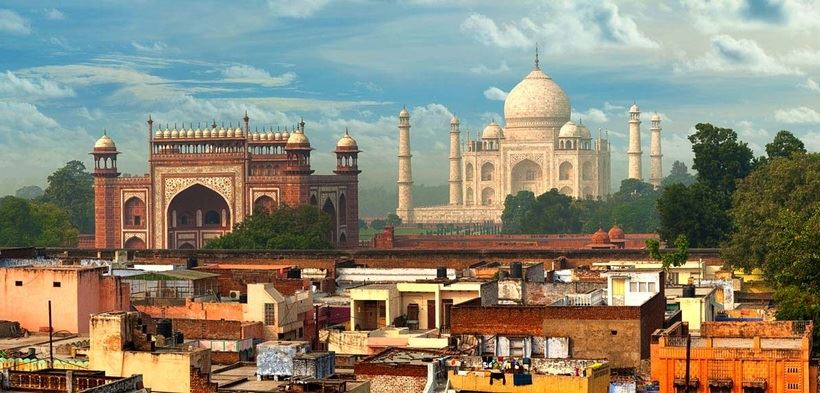 Taj Mahal – World Wonder and a marble mausoleum of unparalleled beauty. Famous for the architecture, museum, garden and shops around it.
Agra Fort – 16th century fort famous for palaces, temples, view of Taj Mahal, mosques, halls and much more.
Soami Bagh – This garden is located a little away from Agra and is famous for inlay marble work.
Mehtab Bagh – great place for a good view of Taj Mahal, picnic and photography.
Sikandra – Tomb of Akbar famous for architectural beauty, sandstone gate and wonderful sunset and sunrise view.
Itmad-ud-Daulah – called as Baby Taj, as it is similar to Taj Mahal and was the inspiration for the world wonder. Famous for garden, marble work, inlay designs, latticework and others.
Jama Masjid – large mosque of 17th century
Best Way To Reach Agra
The nearest airport is located inside Agra, but it is connected only to Delhi and Mumbai by only one carrier. Thus, it is best to avoid flights and choose travel to Agra via road or rail. Train services are available from many major cities around the country. You can also find luxury trains like Palace on Wheels, semi-luxury trains and others serving Agra as a part of their itinerary. Cabs and buses are available from major cities to Agra, very frequently.
Cuisine Of The Land
Top dishes to try here are
Samosa, kachori, panipuri, alootikki and other chaat items
Petha
Jalebi
Tandoori chicken
Dalmoth
What To Buy In Agra?
Mughal Bazaar – Taj Mahal figurine, marble articles, décor items, accessories and others
Sadar Bazaar – electronic items, handicraft items, carpets and others
Rawatpara market – spice market
M G Road – electronic items, clothing, home décor, handicrafts and others
Things To Do In Agra
Visit the first interactive cinema theater of the world, Adlabs multiplex
Enjoy the cuisine of the land
Explore the city in battery powered rickshaw
Explore the markets for souvenir shopping
Festivals Of Agra
Taj Mahaotsav of February – March
Bateshwar fair of October – November
Ram Barat of October
Kailash fair of August – September
Also, if you want to travel whole India and not just Agra, read about all the great reasons to travel India – one of the cheapest yet beautiful countries to travel.